Carney Has Jumped the Gun, U.K. Business Says
(Bloomberg) -- The Bank of England's decision to raise interest rates may not have come as a surprise, but for some U.K. businesses and economists it's still unwelcome.
The central bank lifted its benchmark rate to the highest since 2009 on Thursday, with policy makers putting on a unexpected united front to say that further hikes will be needed to rein in inflation. But lobbying groups warned the move risks damaging confidence just as Britain is due to leave the European Union in less than eight months.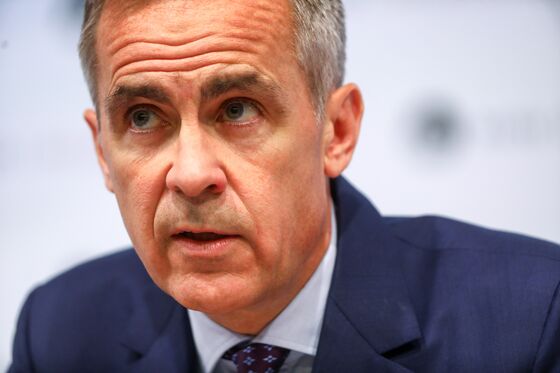 "The bank has jumped the gun," said Tej Parikh, senior economist at the Institute of Directors which represents about 30,000 members in U.K. business. "The MPC would have done well to hold off until its November meeting, allowing it to account for October's all-important Brexit deadlines, and get a firmer grasp on the broader trend in wage increases."
The British Chamber of Commerce was similarly scathing, with Head of Economics Suren Thiru describing the decision as "ill-judged" at a time of uncertainty for firms.
"The increase reinforces a concerning aspect of the Bank of England's recent approach to monetary policy, which appears to be overly focused on reinforcing an idealized direction for rates, rather than on economic reality -- an approach that unnecessarily risks the U.K.'s growth prospects."
That view wasn't shared by all though. The Confederation of British Industry, the country's biggest business lobby, said the case for higher rates had been building and that future increases are likely to be "very slow and limited" as Brexit uncertainty takes its toll on business investment.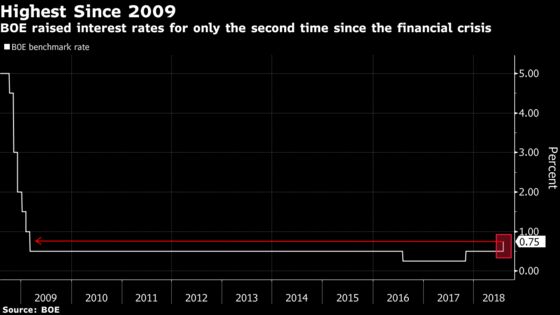 In the financial sector, opinions on the decision were equally mixed. The pound slipped after the announcement and money markets continued to price the next increase in September 2019.
"Sub-trend growth and a cloudy outlook hardly make a compelling case for a higher U.K. rates," said Ian Stewart, chief economist at Deloitte. "In six months' time this decision will look either prescient or premature. Either way it is bold move."