U.S. Curve Resteepens as Pressure Builds From Japan, Refunding
(Bloomberg) -- Global forces are once again amplifying the pressures derailing the U.S. yield curve's flattening trend.
Volatility in Japanese government bonds on Wednesday contributed to the pressure that drove U.S. 10-year yields back above 3 percent for the first time since mid-June. The U.S. curve steepened as a result, nudging it further away from the almost 11-year low reached last week.
The U.S. bond-market move was already underway before the Treasury's refunding announcement Wednesday, which added to the selling momentum as traders wrapped their heads around the slew of U.S. supply ahead. The Treasury said it will raise the amount of long-term debt it sells to $78 billion this quarter.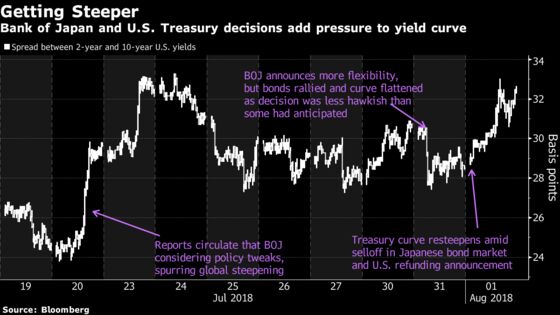 "The kind of bear steepening that we've seen overnight in the yen curve clearly is bearish for foreign bond markets," said Ralf Preusser, global head of rates strategy at Bank of America Corp. in London.
The latest ructions in Japanese rates hardly present a tantalizing opportunity for U.S. investors. This week's move by the Bank of Japan still leaves that nation's 10-year yield capped at around 20 basis points. Rather, the bout of turbulence in Japan may provide domestic investors such as pension funds and life insurers a reason to reconsider their offshore allocations.
"As the level of yen rates resets higher, that has implications for the calculation of whether foreign bonds look interesting to the Japanese investor or not," Preusser said.
The BOJ is just one force weighing in favor of a steeper U.S. curve, at least for now. In addition to greater supply, rates have also responded to developments in the trade war with China. The combination overshadowed an unsurprising Federal Reserve statement on Wednesday, which reaffirmed plans to gradually lift borrowing costs.
The steepening catalyst emanating from Japan may persist as traders now have a numerical target to test, with the BOJ signaling a tolerance for the yield to climb to about 0.2 percent.
"It will take a few days to establish how serious are people in Japan about testing the BOJ's resolve to contain the 10-year yield," said Marc Ostwald, a global strategist at ADM Investor Services in London.