U.K. House-Price Growth Sees Modest Rebound, Nationwide Says
(Bloomberg) -- U.K. house prices bucked their recent trend with a modest pick up in growth in July, according to Nationwide Building Society.
The lender said in a report Wednesday that its index rose 0.6 percent on the month. Prices climbed 2.5 percent from a year earlier, compared with a 2 percent gain in June.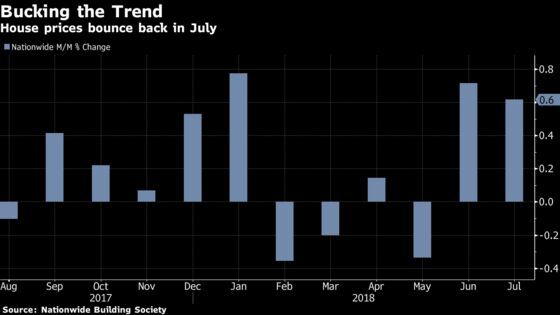 The report is a rare piece of good news for the U.K. housing market which has seen a slowdown in recent years amid tepid economic growth, stretched values and uncertainty stemming from the U.K.'s vote to leave the European Union. There have also been concerns that action by the Bank of England -- widely expected to hike interest rates on Thursday -- could suppress demand even further.
"Looking further ahead, much will depend on how broader economic conditions evolve, especially in the labor market, but also with respect to interest rates," said Robert Gardner, Nationwide's chief economist. "Subdued economic activity and ongoing pressure on household budgets is likely to continue to exert a modest drag on housing market activity and house price growth this year, though borrowing costs are likely to remain low."
A quarter-point increase in the BOE benchmark rate will only have a "modest" effect on the U.K. housing market, largely because most mortgages are set on fixed rates, Gardner said. He maintained his prediction that U.K. house price growth is likely to be around 1 percent this year.
The report comes amid signs that home prices in some of the world's most sought-after cities are heading south. From Sydney to New York, tax changes to damp demand, values out of kilter with affordability and tougher lending standards have combined to undermine the market.