T-Mobile Subscriber Growth Tops Peers on Path to Sprint Merger
(Bloomberg) -- T-Mobile US Inc. posted industry-leading subscriber gains again last quarter, underscoring the No. 3 U.S. wireless provider's strong position as it tries to complete a $26.5 billion merger with struggling Sprint Corp.
Bellevue, Washington-based T-Mobile added 1 million subscribers in the second quarter including 686,000 million new phone customers, according to a statement Wednesday. Analysts predicted an average gain of 658,000 phone customers, according to data compiled by Bloomberg.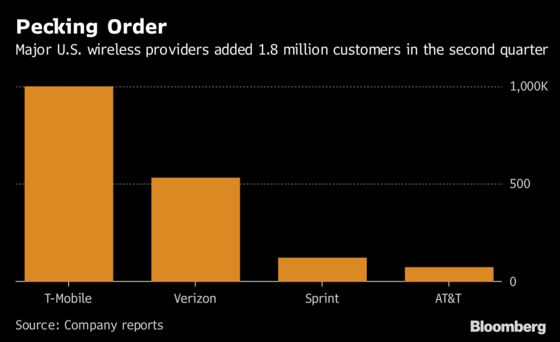 Executives from T-Mobile and Sprint, the No. 4 provider, have argued their combination would create a more formidable competitor to industry giants AT&T Inc. and Verizon Communications Inc. Sprint is hobbled by $34.2 billion in long-term debt but has been an aggressive price cutter.
While the pace of user growth has been slowing for T-Mobile, profits continued to expand. Second-quarter earnings grew to 92 cents a share, beating the 85-cent average of analysts' estimates. Revenue increased to $10.6 billion, meeting projections of $10.6 billion.
The company raised its outlook for 2018 subscriber growth to as much as 3.6 million from up to 3.3 million previously.
T-Mobile shares were little changed in extended trading. They slumped 1.1 percent to $59.36 at the close Wednesday in New York and are down 6.5 percent this year.
Sprint on Wednesday reported net income of $176 million in the period ended June 30, surprising analysts who forecast on average a loss of $59.6 million. The company also increased its forecast for adjusted earnings before interest, taxes, depreciation and amortization.
But compared with its peers, Sprint is on shaky financial ground. Marcelo Claure, Sprint's executive chairman, has argued that the company can't survive alone. "To be blunt, we lack the resources to challenge the two dominant players, AT&T and Verizon," he said in testimony at a June 27 congressional hearing on the deal.
The stock-swap merger has faced minimal opposition so far. But the regulatory review is only just getting underway and opponents who worry about higher consumer prices for service have until Aug. 27 to file objections to the Federal Communications Commission.
In addition to the FCC, the merger also needs approval from the Justice Department and the Committee on Foreign Investment in the U.S., or Cfius, which reviews acquisitions of American businesses by foreign buyers. Sprint is owned by Japan's SoftBank Group Corp., which would become a major T-Mobile investor under the deal.