Russia Debt Sanctions Could Send the Ruble Plunging 15%
(Bloomberg) -- The ruble could plunge by as much as 15 percent and borrowing costs would spike to a three-year high if the U.S. goes ahead with proposals to impose sanctions on Russian government bonds, according to a new model developed by Citigroup Inc.
Moscow-based analysts at the bank said that such extreme moves would come from a "worst-case scenario" of sanctions that bar foreigners from holding domestic sovereign bonds, also known as OFZs. A move to sanction only new issuance would weaken the ruble by about 5 percent, they said.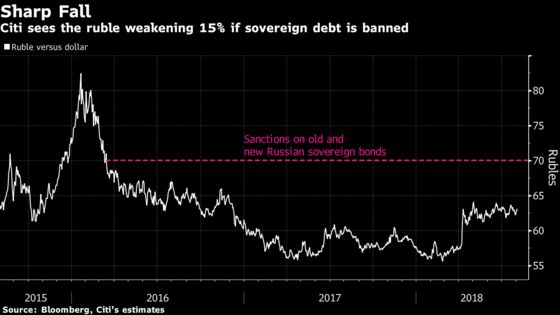 "While no sanctions by the U.S. Congress seem likely for now due to the summer recess, risks that such restrictions will be implemented later on remain," Citi analysts Ivan Tchakarov and Artem Zaigrin said in the research note published Wednesday. "The additional capital outflows generated by this event could ultimately weaken the ruble."
Sentiment toward Russian debt and the ruble has been dented in recent weeks by renewed calls in Washington for more hard-hitting sanctions to punish the Kremlin for interference in the 2016 presidential elections. The nuclear option of going after sovereign debt is still seen as an unlikely scenario after a Treasury report earlier this year highlighted that it would be damaging to foreign investors who own about 28 percent of the market.
Yields on 10-year OFZs are up about 70 basis points since the U.S. implemented its last round of penalties against Russia in early April, imposing the harshest sanctions yet against a string of companies and individuals.
The ruble weakened for a third day on Wednesday, dropping 0.2 percent to 63.17 versus the dollar. Yields on 10-year OFZs climbed 3 basis points to 7.76 percent. Citi's worst-case scenario puts them at 11.9 percent by the end of 2019, a level not seen since the 2015 oil-price crash.
What Our Economists Say...

"Sanctions on debt could spark a bigger market panic than what we saw in April, depending on the details. U.S. authorities will want to limit collateral damage, and that makes extreme actions unlikely."
-- Scott Johnson, Bloomberg Economics. See his RUSSIA INSIGHT
Bank of Russia Governor Elvira Nabiullina has attempted to downplay the potential impact, insisting that local banks will be able to mop up demand from any foreign investors exiting the market. The Citi analysts said their forecasts would be "somewhat moderated" if the government was able to find buyers, but that may be hard to achieve since foreigners own about $35 billion of local debt.
The impact of foreign participation in the OFZ market was in evidence last year when yields ground steadily lower as the share of non-residents climbed to a record high. The Citi model finds that a 1 percent increase in the share of non-resident participation in the OFZ market reduces yields by around 10 basis points.
"Should sanctions on the Russian sovereign be introduced, leading to a significantly lower or zero foreign participation in the domestic bond market, the effect on OFZ yields could be quite large," the analysts conclude.
Here's an outline of what would happen under Citi's model:
| Scenario | Foreigners in OFZ market | Ruble | OFZ yields |
| --- | --- | --- | --- |
| Sanctions on new and existing sovereign debt | 0% | -15%  | +4ppt |
| Sanctions only on new sovereign debt | 21% | -5% | +2ppt |