Rand Gains as Some Traders See Positives in ANC Land Proposal
(Bloomberg) -- South Africa's rand erased a decline as some investors took the view the ruling party's proposal to speed up land redistribution would reduce uncertainty that has weighed on the nation's assets.
The African National Congress decided to amend the nation's constitution to make it clearer under what conditions land can be expropriated without compensation, President Cyril Ramaphosa said late Tuesday. While some investors are concerned that this would undermine property rights, others say it would clarify the land-reform process.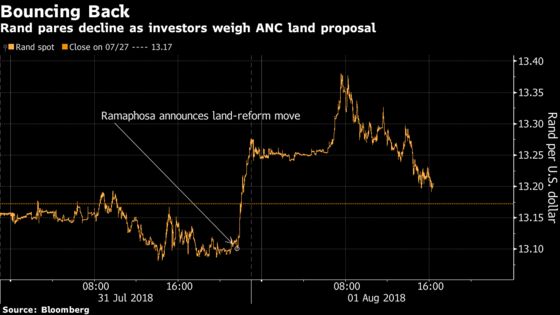 "It's a positive," said Johann Els, the head of economic research at Old Mutual Investment Group Ltd., the second-biggest investor in South African government rand bonds, with 30 billion rand ($2.3 billion) of holdings, according to data compiled by Bloomberg. "They want to set out the conditions under which expropriation will happen. It will set out the framework within which the constitution should work."
The rand gained 0.6 percent to 13.2003 per dollar by 4:20 p.m. in Johannesburg after weakening as much as 0.8 percent earlier.
The currency dropped 0.9 percent late Tuesday after Ramaphosa announced the proposal, which underscores the ANC's precarious hold on a majority as it heads to the ballot box next year. Television footage of impassioned pleas from citizens at public hearings across the country to change policy on land may have spurred the party into action, as it risked surrendering leadership of the debate -- as well as votes -- to the populist Economic Freedom Fighters opposition party.
Clarifying land-expropriation procedures in the constitution would be "a step in the right direction as it takes South Africa closer towards a rule-based policy approach," Min Dai, a London-based emerging-markets fixed-income strategist at Morgan Stanley, said in a report. Morgan Stanley is neutral on the rand and recommends long-end government rand bonds. "Clearly, the details of the amendment are important to watch."
Still, options traders are positioning for wider price swings in the rand in coming days as details of the proposal become clear. The rand's one-week implied volatility against the dollar, based on the prices of options to buy and sell the currency, climbed 70 basis points to 15.43 percent.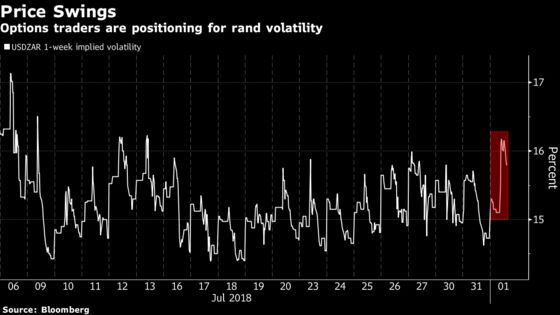 Any erosion of property rights would "dent investor sentiment, and specifically foreign investors, as it creates a big risk," said Christopher Shiells, the London-based managing analyst for emerging markets at Informa Global Markets. "There remains uncertainty over under what conditions expropriation will take place, and details need to be cleared up."
Yields on benchmark 2026 government rand bonds climbed four basis points to 8.62 percent. Rates on dollar-denominated debt due 2028 jumped 12 basis points to 5.59 percent, heading for the highest in almost a month, while the cost of insuring the nation's debt using credit-default swaps increased six basis points to 187.
Click here for data on foreign ownership of South African bonds
"There is lots of anxiety about what this will mean for the economy," said Halen Bothma, an economist at ETM Analytics in Johannesburg. "Politicians have tried to talk down the negatives, but obviously news like this will play on investor fears on the South African economy."