Qatar Stocks Erase Losses Suffered Since Embargo Began Last Year
(Bloomberg) -- Qatar's main stock benchmark has recovered all losses since a standoff with a group of neighboring countries started almost 14 months ago, as a softening of foreign ownership limits fueled a rally.
The QE Index rose 1.5 percent to 9,976.51 at the close Wednesday, reaching levels not seen since May 2017, before countries including Saudi Arabia and the United Arab Emirates severed economic and diplomatic ties with the gas-rich neighbor over its links to Iran and the alleged funding of terrorism. The benchmark is up 17 percent this year, recovering from a slump of 18 percent last year.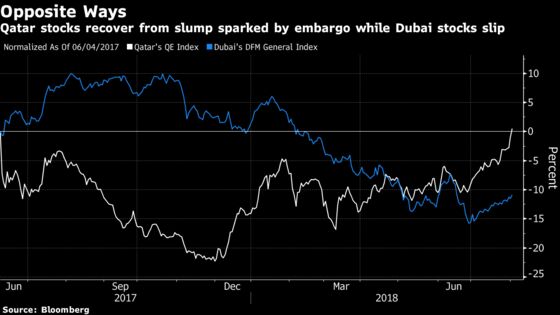 While the standoff shows no sign of ending, pressure on Qatari assets in general has eased. After plunging the most in almost a decade the day the embargo was announced, Qatar's stock benchmark is outperforming its peers in Dubai and Abu Dhabi this year.
Qatar's benchmark has been boosted by an advance in large caps including Qatar National Bank QPSC and Industries Qatar QSC, after they raised foreign ownership limits for their stocks, opening the door to a bigger weighting in gauges compiled by firms such as MSCI Inc. QNB is up 42 percent this year, while Industries Qatar is up 29 percent.