Apple Supplier Baffles Tokyo Audience With Futuristic Vision
(Bloomberg) -- In a darkened studio with thumping music, an executive clad in black presents a lineup of futuristic technology products. Apple? No. It was the slightly less well-known Japan Display Inc.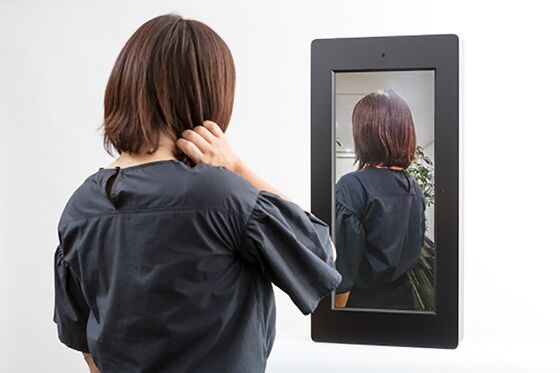 The Japanese manufacturer, better known for making iPhone screens, unveiled an array of new products at a Tokyo event clearly modeled on the presentations of its biggest customer. Chief Marketing Officer Yoshiaki Ito entered the stage through a 2.4 meter-tall, leather-trimmed door with a built-in LCD that can show weather and news. The lineup also included a smart mirror capable of showing images with a slight delay so users can see their backs and a motorcycle helmet with a heads-up display that may be used in e-sports.
"From now on, it will be more than just displays you can see," Ito told reporters on Wednesday in Tokyo's Akihabara electronics district. "Vision, hearing, touch, smell and taste. By appealing to all five senses, display becomes interface."
Japan Display was created six years ago in a merger of troubled screen-making units of Toshiba Corp., Sony Corp., and Hitachi Ltd. It has struggled since with shares falling by more than 80 percent from their peak in 2014.
Ito said the company can and should tap into its venerable manufacturing DNA to address some of the world's most pressing problems ranging from global warming to falling birth rates. He then left through the same door accompanied by rousing music.
Probably the most puzzling combination of high-tech knowhow and product design was a 5.5-inch tabletop display that uses light-field technology to show 3D images without the help of special glasses. The cylindrical device could eventually function as a smart speaker and become a source of recurring revenues from consumers paying for access to their favorite anime characters, according to Ito. The 20-minute presentation titled "JDI Future Trip" also featured a video of a businessman wandering out of a damp forest onto a sun-lit meadow to behold the future of flat-panel screens.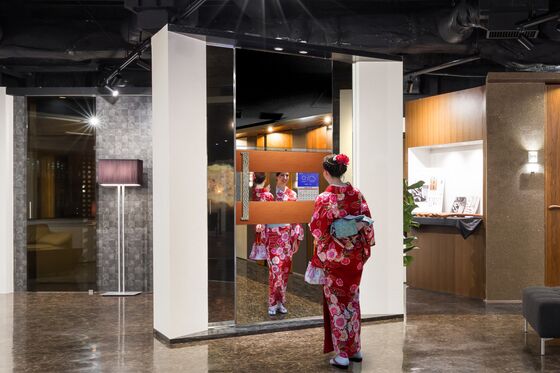 The presentation, perhaps unintentionally, highlighted the company's challenges in reducing its reliance on screens for mobile phones, which account for 80 percent of revenue. Samsung Electronics Co. and Sharp Corp. earlier this week reported earnings that took a hit from sluggish global smartphone sales and JDI is due to report first-quarter results on Aug. 8. In addition, Apple is shifting to next-generation organic light-emitting diode displays, which JDI doesn't produce in mass quantities.