Apple's Solid Quarter Will Strengthen Bull Case on Wall Street
(Bloomberg) -- Apple Inc. analysts are increasingly bullish on the company's growth prospects after its forecast for fourth-quarter sales topped estimates. The results should give investors confidence ahead of the expected debut of three new iPhone models later this year, according to Cross Research. Bernstein also highlighted strength in iPhone pricing and expects it to continue into next year. Apple jumped as much as 4.7 percent as trading opened in New York, putting it ever closer to a $1 trillion valuation.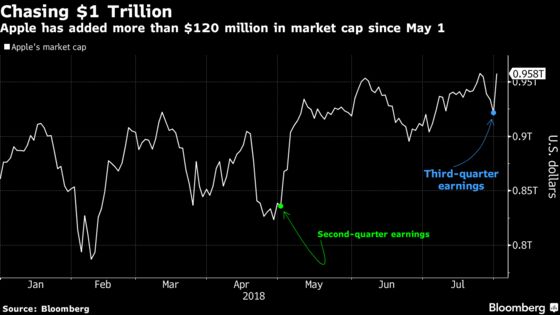 Here's what analysts are saying about the results:
Bernstein, Toni Sacconaghi
"The key takeaway from Apple's quarter was the strength in iPhone ASPs, which were up 20% YoY, and appear to have surprised even Apple executives."
"We now model 5% ASP increases for iPhone in FY 19 (up from 3%, consensus at 0%), but ASPs could plausibly increase by more. Every 2% increase in iPhone ASPs for FY 19 boosts revenues by 1%+ and EPS by $0.12."
The analyst raised Apple's price target to $200 from $190 and has a market-perform rating on the stock. The near-term risk reward is favorable but "struggle to recommend" Apple as a core holding.
Bank of America Merrill Lynch, Wamsi Mohan
Mohan sees five reasons to buy Apple shares after the results:
Strong iPhone demand
Upside in gross profit margin
Strong capital returns, with $90 billion of remaining buyback authorization
Growth in services revenue
Demand for wearable and AirPods
"Investor focus will likely soon shift to new iPhones to be released in fall 2018, with our 49K survey respondents suggesting the material part of the installed base is still on iPhone 6/6+ and intention to buy iPhones remains very high." 
The analyst reiterates a buy rating for the shares, with a $230 price target.
Cross Research, Shannon Cross
"These results and guidance will increase investor confidence in stability and predictability of the model. In addition, we expect the vast majority of Apple's product line-up to be refreshed during the next couple of quarters, which should support near-term results."
A higher average iPhone selling price and better-than-expected services growth helped drive the third-quarter revenue beat. They also offset some of the pressure from Macs, which were "especially weak in the quarter."
Cross rates Apple a buy, with a price target of $213.
RBC Capital Markets, Amit Daryanani
Apple reported a "solid beat and raise as we wait for next iPhone launch."
A higher iPhone average selling price, acceleration in services and sustained growth in wearables all contributed to strong third-quarter results.
The fourth-quarter forecast was "modestly ahead" of analyst estimates, with "healthy" revenue growth in the mid-teens and gross margins "remaining fairly stable" in the range of 38 percent to 38.5 percent.
The analyst has an outperform rating with a $210 price target.
GBH Insights, Daniel Ives
The results were better than expected, "with a generally in-line iPhone shipment number of 41.3 million, which will be relief to those on the Street fearing a miss this quarter."
"The 'star of the show' was better-than-expected FY4Q/September guidance, which will be the focus of investors digesting results and a clear feather in the cap for the bulls."
A higher average selling price for the iPhone "continues to be major top-line catalyst for Cook & Co. heading into FY19." Another beat for services shows it also "remains a linchpin of growth looking ahead."
The analyst says the shares are highly attractive and have a price target of $200.
Oppenheimer, Andrew Uerkwitz
"The solid June quarter results and better-than-expected September guidance is the latest reminder of the edge Apple has as the dominant mobile platform owner."
"However, we remain skeptical over Apple's ability to maintain its market dominance in the mid- to-long term when competition moves away from hardware to platform-agnostic software and services."
Oppenheimer has a perform rating on Apple shares.
Bloomberg Intelligence, John Butler and Boyoung Kim
"Continued momentum for Apple's iPhone, largely led by the increase in average selling price, as well as robust growth of services is likely to fuel optimism surrounding Apple's outlook."
CICC, He Mei
He Mei expects analysts to raise the iPhone sales volume estimate for the December quarter. A breakthrough in emerging markets such as India and further subsidies in Europe and the U.S. are upside catalysts for the stock. On the other hand, China's non-tariff retaliation measures amid trade frictions with the U.S. could present a risk to the company.
"In the mid-term, we continue to be positive in the sales of wearable products and subscription services."
Morgan Stanley, Katy Huberty, Erik Woodring, Elizabeth Elliott
The trio highlights the increase in services revenue growth, saying App Store results were "even more impressive" given that the government in China -- the biggest App Store country in the world -- "reportedly slowed the process of new app approvals in the quarter." They also note the success of the AirPods and Watch.
"It is becoming increasingly clear that users view these products as important complements to their iPhone, and we believe they are successfully broadening the Apple ecosystem and increasing customer stickiness (and spend) to the platform."
Gross margins were only in line, despite NAND and services tailwinds, but there is potential for future upside from falling NAND prices.
"Importantly, a stable gross margin outlook puts to rest any concerns that Apple will meaningfully change its iPhone pricing strategy to chase unit demand in the upcoming iPhone product cycle."
The analysts raised their revenue estimate for the September quarter to $61 billion from $58.2 billion. They kept their price target to $232, with an overweight rating.
Apple's results "suggest healthy iPhone demand," which has read-through to the company's semiconductor suppliers, including buy-rated Cirrus Logic and Analog Devices.
In particular, Stifel has "greater confidence that Cirrus can meet our revenue estimate" when it reports results after the close of trading.
The impact to Analog Devices is "relatively neutral" with positive general commentary from Apple about its three latest iPhones. Declining Apple sales are built in to revenue expectations and Apple continues to decline as a percentage of sales for the Analog Devices, "a trend we expect to persist."