T-Mobile, Sprint Investors Seek Deal Update With Opposition Muted
(Bloomberg) -- T-Mobile US Inc. and Sprint Corp.'s proposed $26.5 billion merger seems to be on a gentle glide to completion, unlike other deals in the Trump era.
Investors will get an update on the combination starting Wednesday morning before markets open, when Sprint, the No. 4 U.S. wireless provider, reports second-quarter results. T-Mobile, the third-largest carrier, follows in the afternoon. Investors will want to know where the deal stands with regulators and whether the companies are open to major divestitures, such as airwaves or the prepaid business.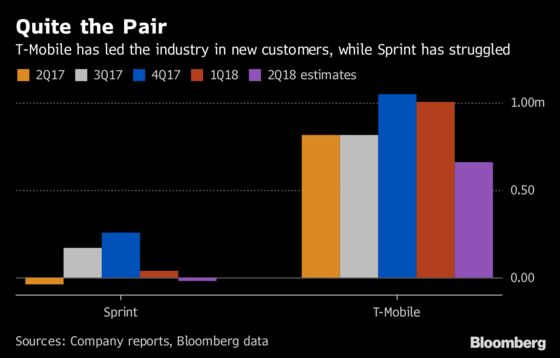 "We are hearing incrementally positive things in D.C.," said Jennifer Fritzsche, an analyst with Wells Fargo Securities LLC. "For example the groups that would usually have their hair on fire over this type of deal aren't saying much right now."
It is still early in the process, however. The regulatory review is only just getting under way and opponents have until Aug. 27 to file objections to the Federal Communications Commission. President Donald Trump, who has criticized some mergers, has so far been quiet about this one.
"People might be hypothesizing a bit too early about the fate of this deal," said Gene Kimmelman, the head of Public Knowledge, a Washington-based public policy group. "I don't think a lull now means smooth sailing from here on. I think you'll see significant numbers of people raising concerns about this deal around the end of August."
Sprint and T-Mobile representatives didn't respond to requests for comment.
The two smallest of the four major U.S. wireless carriers are pitching the deal as a necessary combination of underdogs to better compete against industry giants Verizon Communications Inc. and AT&T Inc. Sprint in particular has been in a precarious financial state: losing money, deep in debt and forced to use airwaves as collateral for loans. Analysts expect Sprint to report a quarterly loss on slightly lower revenue
T-Mobile, meanwhile, has led the industry in subscriber growth, even if its gains are slowing. On Monday, as if to demonstrate its aggressive investment commitment, the company announced it awarded a $3.5 billion supply contract for 5G network gear to Nokia Oyj. The company is expected to report higher quarterly sales and profit.
But reducing the number of competitors from four to three is a challenge, especially since the smaller players have been the most innovative in terms of offering new consumer benefits, like the elimination of service contracts, unlimited data plans and lower prices.
Critics warn that consolidation will lead to higher prices, less innovation and lower quality service. Kimmelman, for example, told a June 27 congressional hearing that he fears aggressive competition "would be lost with this merger."
Getting Washington's blessing may require some concessions even though T-Mobile Chief Financial Officer Braxton Carter said in May that no structural remedies like spectrum divestitures or business spinoffs should be required.
"T-Mobile and Sprint don't want to negotiate against themselves so they aren't going to offer concessions unless they are forced to," said Roger Entner, an analyst with Recon Analytics LLC.
One option to address concerns that consolidation will hamper competition is if the two companies agreed to sell a portion of the pay-as-you-go business. T-Mobile's MetroPCS and Sprint's Boost Mobile and Virgin Mobile have about 37 percent of the prepaid market.
It's an idea being floated by Peter Adderton, the largest shareholder of Boost Mobile Australia. Adderton, who founded Boost Mobile as a prepaid brand that was purchased by Sprint, is calling for T-Mobile and Sprint to divest about a third of their 2.5 gigahertz airwave holdings and spin off the pay-as-you-go service. Adderton and a group of investors want to acquire the assets and start a $9.95-a-month wireless service aimed at low-income customers.
"Adderton's idea makes some sense" in terms of preserving competition, said Entner.
In addition to an OK from the FCC, the merger also needs approval from the Justice Department and the Committee on Foreign Investment in the U.S., or Cfius, which reviews acquisitions of American businesses by foreign buyers. Sprint is owned by Japan's SoftBank Group Corp.
Wells Fargo's Fritzsche gives the deal a 60 percent chance of approval and says she's become more optimistic given the low level of opposition so far.
"It's been quiet, and quiet is a good sign for the deal," she said.