Square Earnings Face High Bar After Nearly 100% Share Surge
(Bloomberg) -- Square Inc. needs to amaze investors when it reports second-quarter results Wednesday, analysts say, noting that the firm faces a high bar after seeing its stock nearly double this year. Some predict that the company will be able to beat revenue expectations.
On the conference call, investors will be focused on new products and services, the integration of recent acquisitions, Cash App updates and progress in international markets, analysts say.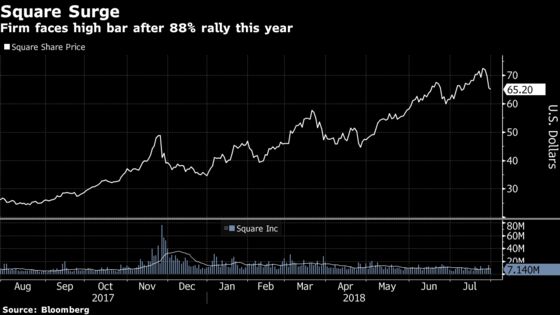 "We expect another strong quarter driven by faster GPV growth from larger sellers, continued momentum in subscription and services revenue, and the ongoing rollout of new products and services," Devitt wrote. "There's still upside to current estimates, which can support further share gains despite Square's current valuation."
The analyst expects second-quarter adjusted revenue and Ebitda to beat consensus estimates and company guidance. On the call, investors will likely focus on topics including progress abroad, adoption of newer products and services, Cash App growth, updates on the industrial loan charter process, and integration of Weebly.
"We believe there remains a substantial opportunity to drive more cross selling and introduce new products to more sellers," Devitt added.
"We expect SQ to beat our roughly Street-matching estimates" for adjusted Ebitda and revenue, Perlin wrote. "Upside could be driven by stronger growth in its higher margined subscription & services revenues, which has enabled adjusted net revenue growth to inflect up the past four quarters."
"The question remains as to the level of reinvestment required to support all the new product initiatives SQ is bringing to the market, while at the same time expanding geographically and now through more meaningful M&A," the analyst added.
William Blair, Robert Napoli
"We believe fundamental trends remain strong and that revenue growth should remain around 50% in the second quarter," Napoli said. "The question is how much upside to expectations is required to support the stock given it has appreciated 100% year-to-date on top of 150% appreciation in the past year."
"First-quarter margin expansion was weak, likely due to increased investment, that tide will likely turn in the second quarter," the analyst wrote. "The question is whether the slowdown the past two quarters is due to targeted increased investment, which we believe, or if the mix of revenue (more lower-margin Caviar, less higher-margin Square Capital) or other reasons pressured margins."
Bloomberg Intelligence, David Ritter
"With shares of Square trading at about 75x consensus Ebitda for the next year, highest among large-cap tech stocks, the company needs to continue to beat and raise forecasts in 2Q," Ritter wrote. "Expectations are set high."
"Expect solid top-line beat, though more muted on EBITDA," Beck said. "The momentum with Square Cash, up-market, and Build with Square all lead us to believe in $10M+ of revenue upside. We think EBITDA could be inched up to $245M- $255M."
2Q adjusted EPS estimate 11c (range 9c to 14c); SQ forecast 9c to 11c
2Q adjusted Ebitda estimate $64.5 million (range $58.5 million to $75.0 million); SQ forecast $60 million to $64 million
2Q adjusted revenue estimate $365.2 million (range $355.0 million to $376.0 million); SQ forecast adjusted revenue of $362 million to $367 million
2Q gross payment volume (GPV) growth estimate 29.4% y/y (Bloomberg survey of four estimates)
3Q adjusted EPS estimate 13c (range 10c to 15c)
3Q adjusted Ebitda estimate $71.3 million (range $60.0 million to $88.0 million)
3Q adjusted revenue estimate $383.0 million (range $349.0 million to $410.0 million)
2018 adjusted EPS estimate 46c (range 40c to 52c); SQ forecast 42c to 46c
2018 adjusted Ebitda estimate $253.4 million (range $240.0 million to $278.0 million); SQ forecast $240 million to $250 million
2018 adjusted revenue estimate $1.47 billion (range $1.38 billion to $1.53 billion); SQ forecast adjusted revenue of $1.45 billion to $1.48 billion
15 buys, 18 holds, 3 sells; avg PT $63.52 (1.9% downside from current price)
Implied 1-day share move following earnings: 9.5%
Shares rose after 7 of prior 10 earnings announcements; adjusted EPS beat estimates in 8 of past 10 quarters
Shares down 6.6% in past 5 days vs SPX Index unchanged 0.0%
Shares up 145.7% in past year vs SPX Index up 14.2%
Earnings release expected Aug 1 after market close
Call 5pm (NY time), (866) 393-4306 password: 1499390