IMF Damns Greece's Post-Bailout Growth Plan With Faint Praise
(Bloomberg) -- Among the most cutting parts of the International Monetary Fund's assessment of Greece's economy were its comments on the government's much-vaunted growth plan.
In a one-page annex to the IMF's annual Article IV consultation on Greece, the fund first praises the plan as "an important effort at planning and consultation," before proceeding to criticize most of the strategy's planks.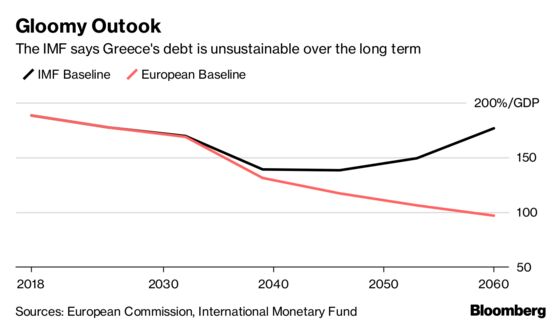 "While the strategy is a high-level description of the government's agenda and vision, more detail would be needed to fully develop its potential," the IMF said.
The report goes on to lay out changes that echo reforms the IMF spent years calling for, while knocking back objectives the government in Athens long pursued.
Criticizes the plan for not identifying further ways to liberalize closed professions
Says rolling back some 2011 labor reforms and raising the minimum wage will endanger jobs and productivity
Questions the consistency of increasing youth employment with raising the minimum wage
Calls for more details on how the government can reduce tax rates, beyond the plan's commitment to fight tax evasion
Says the government's proposals for the financial sector should focus on balance sheet repair rather than the plan's use of cooperative banks to finance SMEs and the creation of a national asset management company, which carry financial and fiscal risks with "little evidence presented of any productivity benefit"