Britain Becomes the Economic Black Sheep of G-7 Nations
(Bloomberg) -- The U.K. was the only Group of Seven country to see growth slow in 2017, according to the Office for National Statistics.
As most major economies enjoyed a marked pickup in the best year for global growth since 2011, Britain moderated to 1.7 percent from 1.8 percent in 2016 as the decision to leave the European Union curtailed activity.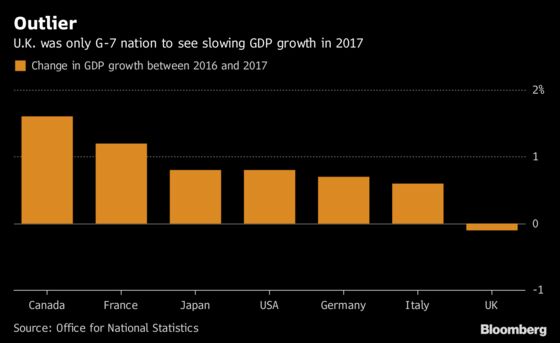 The figures, highlighted in full National Accounts data published by the ONS Tuesday, underline the effect Brexit is having on growth. With fears mounting that Britain could leave the EU without a deal, the economy is expected to keep slowing this year. The median of forecasts this month is for an expansion of 1.3 percent, compared with 2.2 percent for the euro area and 2.9 percent for the U.S.
Growth last year was well below forecasts made before the 2016 referendum, when it was assumed that Britons would opt to remain in the EU. Still, the economy has performed better than some predicted in the immediate aftermath of the vote, a fact often cited by Brexit supporters.