Bank of England Urged to Be More Open About Brexit
(Bloomberg) -- The Bank of England should place more emphasis the uncertainty surrounding policy in the age of Brexit and trade wars, according to the National Institute of Economic and Social Research.
Announcing its latest forecasts on Wednesday, Niesr said it expects the BOE to hike borrowing costs to 0.75 percent on Thursday as part of what will probably be a gentle path of monetary policy normalization.
The market is pricing in about a 90 percent chance of a quarter-point rise, with a second increase seen by the end of 2019, but the BOE has long said that Brexit could have a range of impacts on policy. Governor Mark Carney has said his base case is that the U.K. departure from the European Union will be smooth and orderly, but he's also ordered contingency plans in case it isn't.
"They should emphasize the fact that policy rates going forward could go in either direction and they can move aggressively," Amit Kara, head of U.K. macroeconomic forecasting at Niesr, told reporters Tuesday. "In three months' time, because of the Brexit negotiations or because of the trade wars or for some other reason, it might look like the August rate increase was a mistake."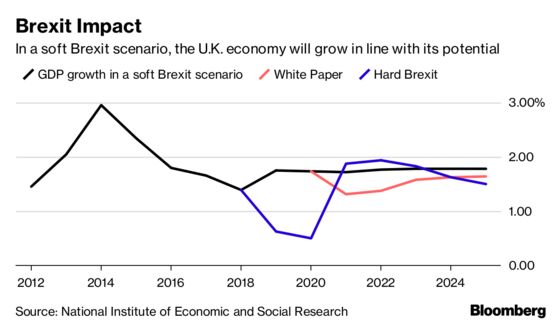 Niesr predicts the scenario outlined by the U.K. government in its latest plan -- which is more restrictive than a soft Brexit in which Britain keeps close to full access to the EU for goods and services -- would cause an extra 2.5 percent drop in gross domestic product over the next decade. The start of the new trade relationship would immediately add 1.4 percentage points to the inflation rate.
However, this doesn't factor in the "fairly significant concessions" Niesr predicts the government may have to make during negotiations, or any losses to productivity.
"There's no guarantee" the government's plan will be accepted, Kara said. "The cabinet itself is divided, Parliament is divided, the Conservative Party is divided, and quite frankly, anything could happen from here."
The institute also highlighted the wider economic consequences of the government's announcements regarding additional health spending and the relaxation of the 1 percent cap on public-sector wages. Niesr predicts that faster pay growth in the public sector could fan inflation and prompt the BOE to tighten policy more than it otherwise would.