Aberdeen Is Shorting U.K. Gilts
(Bloomberg) -- Aberdeen Standard Investments is keeping a short position on U.K. government bonds on the prospect that a much anticipated interest-rate increase Thursday could presage another this year.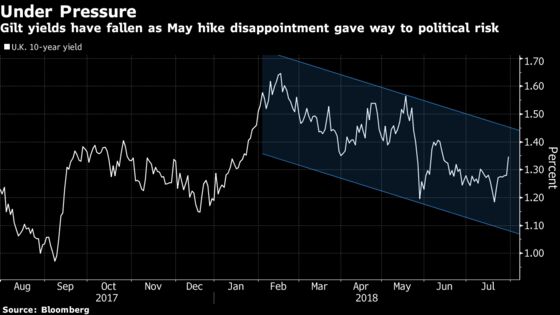 Money markets are assigning a 90 percent probability to a 25-basis-point rate hike at the Bank of England's meeting this week, but a less-than 10 percent chance to a further move before year-end. With economic data suggesting the U.K. economy may be gaining momentum, money manager James Athey has short positions in 10-year gilt swaps and five-year inflation-linked bonds, along with a long-pound allocation versus the euro.
"Ultimately, I am still bullish the U.K. economy relative to consensus and I still think a second hike is warranted this year," he said in emailed comments. "I don't expect this as a base case but given how dovish pricing is I am still being rewarded to take that on."
Gilts have rallied since mid-February after investors betting on a rate increase in May were left disappointed by the BOE, while risks surround trade and Brexit have also supported demand for safer assets. While Britain's decision to leave the European Union poses one of the biggest challenges to the central bank's outlook, even a worst-case no-deal exit scenario could still justify higher rates, Athey said.
"The biggest hit to U.K. Plc from Brexit uncertainty is a supply-side one," he said. "If headline growth is faster than potential and labor markets are tight, then you hike."