Trade War and Brexit Open Door for U.K. Grain Sales to China
(Bloomberg) -- The global trade war and Brexit uncertainty could give U.K. wheat and barley exporters the chance to break into the Chinese market.
Britain hasn't sold barley to the world's top importer in almost two decades and shipped very little wheat there in 10 years, but that could soon change. Facing having to find alternatives to U.S. soy and with more crop tariffs still a concern, Chinese grain companies are looking at the U.K. as a potential supplier, the U.K.'s Agriculture and Horticulture Development Board said.
"The ongoing trade tension between the U.S. and China is creating uncertainty," said Dorit Cohen, export marketing executive for cereals at the AHDB. "America is a supplier of wheat to China and this could create good opportunities for U.K. to break into the Chinese market."
The potential U.K. shipments to China is another sign of how the trade spat is threatening to reshape agricultural trading around the world. China's search for new grains suppliers also comes at a time when the U.K. is preparing for life once it leaves the European Union next year. The bloc currently accounts for the bulk of Britain's wheat and barley exports.
A delegation of Chinese grain companies came to the U.K. last month to assess production and storage facilities, the AHDB's Cohen said. That was followed by a U.K. trade visit to China to meet grain companies including food giant Cofco International Ltd. to understand Chinese import requirements.
The U.S. is the second-biggest wheat supplier to China. China imposed tariffs on a host of U.S. products including wheat and sorghum in July, and there's still a risk that the tit-for-tat tariffs will escalate. The Asian country could also need to buy more barley because it's facing higher costs for U.S. sorghum, an alternative animal feed ingredient. China's sorghum imports fell to a six-month low in June.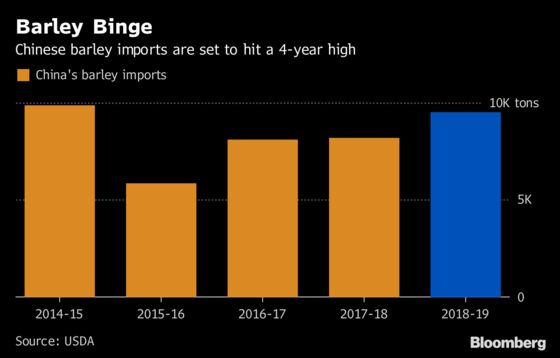 The U.K. plans to start shipping small amounts of barley to China before gradually boosting exports. Because shippers have struggled to meet China's zero tolerance requirements for pests and weeds, the U.K. has asked China to relax its rules.
Britain is also targeting sales of low-protein wheat, which can be used to make biscuits and dimsum. While Britain has lately been a net importer of wheat, more cooperation between the two countries could give the U.K. a customer for any future surplus production, the AHDB said.
Chinese buyers are also keen to find new sources of wheat and barley because their key supplier, Australia, is experiencing a drought and farmers there are reluctant to sell, Cohen said.
As well as China, the U.K. is exploring trading opportunities with countries including Cuba, Mexico and wheat import giant Egypt. At the moment, the EU accounts for about 80 percent of the U.K.'s wheat exports and almost all of its barley sales.
"We are exploring trade opportunities around the world, but China is a massive market for wheat and barley and offers tremendous potential for U.K. cereal exports," Cohen said.