See More Pound Turmoil? It May Be Time to Build Your Buffer
(Bloomberg) -- The summer lull in currency markets could be just the time to buy some cheap protection against potential pound turbulence.
Even as a no-deal Brexit starts to look more plausible, pound-dollar option volatility remains below year-to-date averages. The levels suggest the market has mispriced potential risks and provide an opportunity to insure against future exchange-rate swings at a relatively low cost, according to J.P. Morgan Private Bank.
Sterling volatility should pick up once the U.K. Parliament returns in September from summer recess, said Meenal Patel, an executive director at the bank, in an interview with Bloomberg Television Monday.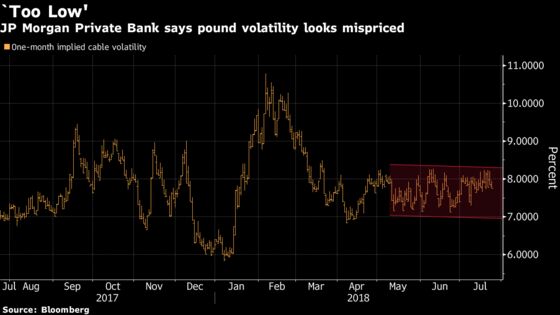 "We don't think the volatility market is correctly priced at this point," Patel said. "We've been advising clients to actually buy that volatility on those tails, and position in that respect, so positioning for that downside through options markets."
Allianz Global Investors, UniCredit SpA and Credit Agricole SA are also betting on bigger pound price swings to come. Sterling's one-month implied volatility against the dollar jumped to a high of 32 percent on the day of the Brexit vote result, while it also rose above 30 during the global financial crisis. Currently, the one-month measure is at 7.7 percent.
While holding on to a long-volatility position looks like a losing bet after months of range-bound trading, a better strategy is to buy the one-month gauge into dips and sell it next time it spikes, according to Mizuho Bank Ltd.'s head of hedge fund sales Neil Jones. "It's not that clear if the market will start to seriously hedge exposure, especially given Brexit could go either way," he said.