No NXP Deal, Still Big Qualcomm Problems
(Bloomberg Opinion) -- It's not over until it's over for Qualcomm and NXP, but this deal is for all intents and purposes dead. That leaves both companies with an uncertain future.  
Qualcomm Inc. on Wednesday said it would terminate its $44 billion purchase of NXP Semiconductors NV if Chinese regulators didn't given their blessing by midnight. While Chinese agencies charged with vetting M&A have reportedly signed off, final authorization is still pending after the deal became a political football in President Donald Trump's trade war.
Qualcomm did give itself some wiggle room in the event of a Hail Mary: "If events occur that cause us to not terminate the transaction, we will continue to pursue the acquisition." But executives don't sound particularly optimistic, and it's hard to blame them from just wanting to move on after waiting 20-plus months. In that time, Qualcomm has also battled activist investor Elliott Management Corp., which sought a higher price for NXP, and fended off a takeover bid from Broadcom Inc. thanks to some ironic help from the Trump administration.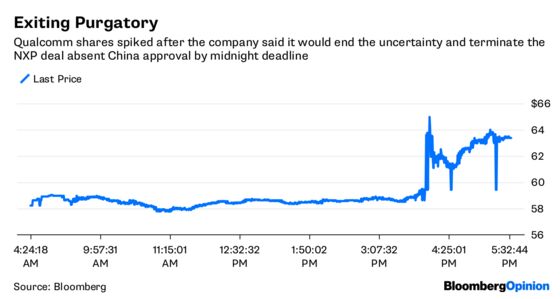 So now the focus shifts to what's next. As the NXP deal dragged on, Qualcomm pledged to buy back as much as $30 billion worth of shares if the purchase ultimately fell through. It reiterated that plan on Wednesday. But spending $30 billion on one's own shares is
not the same
as using that money to acquire a business that can help improve your own. The main appeal of NXP was that it would diversify Qualcomm into faster-growing industries for automotive and industrial chips as the smartphone market slows and the company's lucrative stream of royalty fees comes under attack from regulators and customers including Apple Inc.
Without the deal, Qualcomm is essentially back to square one, and that is a bit troubling. The need for diversification was made all the more apparent by Qualcomm's prediction Wednesday that Apple would use alternative suppliers for modems in its next iPhone model.  There are also credit considerations to taking the buyback route instead. Qualcomm had already raised debt for the NXP deal so no new issuance is likely necessary to fund the buyback, but its leverage will climb significantly without the NXP Ebitda coming in to offset the additional burden. Qualcomm's investment-grade status isn't in jeopardy, but the company's buyback plan could put it at risk of ratings downgrades, according to Bloomberg Intelligence analyst Robert Schiffman.  
The positive for Qualcomm is that it's no longer stuck in an NXP purgatory that was likely preventing management from pursuing alternative options. While there were many reasons to like the NXP deal, there were also a lot of risks, as I wrote when talks between the two were first rumored. Those include the fact that Qualcomm knows little about automotive and industrial chip markets and would be integrating an NXP business that's been run on a very different model than its own. After all the drama of the past year, Qualcomm holders are likely happy to have the company get out of the limelight for a change and content with the certainty proffered by a buyback.
Happy for how long, though? It helps that Qualcomm reported fiscal third-quarter earnings and revenue that surpassed analysts' estimates. But it will need more performances like that if it's going to meet its much-doubted earnings-per-share goal of $6.75 to $7.50 on an adjusted basis in fiscal 2019. Qualcomm management said it hadn't changed that guidance, but cautioned the forecast was dependent on the resolution of its licensing disputes.
The company also needs to be cognizant of the fact that many of its investors were open to Broadcom's arguments for a complete rethinking of the licensing business that's given it so much trouble. Qualcomm has preferred to go with a wait-it-out approach to Apple's legal spat and maybe it will work, but how long until the next person comes along to challenge that business model?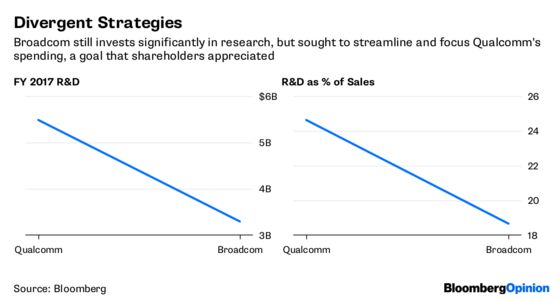 The prolonged NXP saga likely kept both activist investors and a buyout bid from former CEO Paul Jacobs at bay. But if the deal is in fact kaput, Qualcomm may have only a brief reprieve before its next battle.
This column does not necessarily reflect the opinion of the editorial board or Bloomberg LP and its owners.
Brooke Sutherland is a Bloomberg Opinion columnist covering deals and industrial companies. She previously wrote an M&A column for Bloomberg News.