Macron Aims to Contain Damage From French Bodyguard Controversy
(Bloomberg) -- A week after the scandal of the French president's bodyguard broke, Emmanuel Macron is finally trying to steady the ship.
With surveys showing voters were demanding an explanation from their head of state after Le Monde newspaper released videos of his private bodyguard beating demonstrators at a May Day protest, Macron addressed a private meeting of his lawmakers on Tuesday night and sought to draw fire from his embattled aides.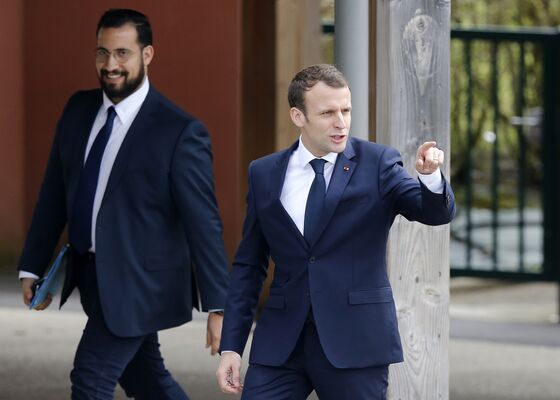 "If you're looking for the person responsible for this, then it's me and only me," the president told deputies from his Republic on the March movement in Paris in a clip broadcast on French television. "My team at the Elysee Palace did what it had to do."
The 40-year-old president is trying to put his plans to remake the French economy back on track -- a constitutional reform of the legislature has already been delayed until September by the outrage at his handling of the bodyguard scandal. His team has come under fire for apparently trying to cover up the assault by 26-year-old Alexandre Benalla and protect him from its consequences, as well as inconsistent accounts of their actions.
Benalla was initally suspended from duty for two weeks and supposed to be confined to office work after that, though press photos showed him accompanying the president on official visits. He was fired from his post on Friday and is now being investigated by the police.
"No one on my team has been protected, ever," Macron said at the closed meeting. "It was me who decided to trust Benalla and it was me who approved that sanction."
Almost three-quarters of French people said their leader has been damaged by the episode, an Elabe poll released earlier Tuesday showed. Eighty percent -- including many of his supporters -- said they are shocked by what they'd learned about how the presidential team works and 73 percent want the president to explain himself.
"The impact is particularly strong because the severe disapproval this time is shared by Macron's political supporters," Bernard Sananes, president of Elabe, said before the president spoke. "Many Macron voters backed him precisely because they were attracted by the idea of moralizing political life. They see this as breaking the contract."
Earlier in the day, Macron's inner circle was still stonewalling.
"I am not authorized to answer questions on the internal organization of the Presidency of the Republic," deputy chief of staff Patrick Strzoda told a special parliamentary committee. He said the president himself had asked him not to discuss the matter to protect the "separation of powers."
Strzoda, a life-long civil servant who is only three months away from retirement, looked tense and uncomfortable throughout the two-and-a-half-hour session. He said it had been his decision to suspend Benalla when he first learned of the incident, in which the bodyguard also, illegally, imitated a police officer. He denied a series of reports in the French media about Benalla's role, his salary and his lifestyle.
"My client is expendable for those who want to target the presidency," Benalla's lawyer Laurent-Franck Lienard said on France Info radio. He called the probe "political maneuvering."
Opposition lawmaker Guillaume Larrive, co-head of the special commission, said he will insist on testimony from all members of Macron's cabinet involved, including spokesman Bruno Roger-Petit, chief of staff Alexis Kohler, security adviser Ludovic Chaker and military commander of the presidential palace General Eric Bio Farina.
Prime Minister Edouard Philippe pushed back against those demands during questioning in parliament on Tuesday. "The parliament has no oversight function or role regarding the presidency," he told lawmakers. "Yes, we do have a strong President!" he added.
Politically, the French president is safe for now. His movement holds a solid majority in parliament that could repel any no-confidence vote and there are no national ballots due until European Parliament elections in May 2019. But he plans to tackle the mother of all reforms next year -- the French public pension system -- and he can't afford any distractions.
"This movie is not over," Sananes said. "It's too early to say what the lasting impact will be. But it's clear that the impact is strong."