Lam Research Forecast in Focus After Negative Signals in Supply Chain
(Bloomberg) -- When Lam Research Corp. reports fourth-quarter results tomorrow after the market close, investors may focus on the company's forecast and supply-chain relationships after one of Lam's top customers cut its capital spending guidance last week and one supplier forecast revenue that trailed estimates yesterday.
Last week, Taiwan Semiconductor Manufacturing Co., which accounted for 16 percent of Lam's third-quarter sales according to Bloomberg Supply Chain data, cut its 2018 capital spending forecast to $10 billion to $10.5 billion from its prior view of as much as $12 billion. Taiwan Semiconductor attributed the reduced capital spending outlay to "efficiency gains" that allow the integrated circuits maker to spend less on tools.
Taiwan Semiconductor has said it's been working with Lam Research competitor ASML Holding NV to use ASML's Extreme Ultraviolet Lithography systems that can etch smaller circuits while increasing capacity and speed. During its second-quarter earnings conference call, Taiwan Semiconductor Vice Chairman and CEO Che Chia Wei explained, "With a few EUV layers replacing certain emerging lithography process, we're able to have fewer masking layers, shorter cycle time and less process complexity."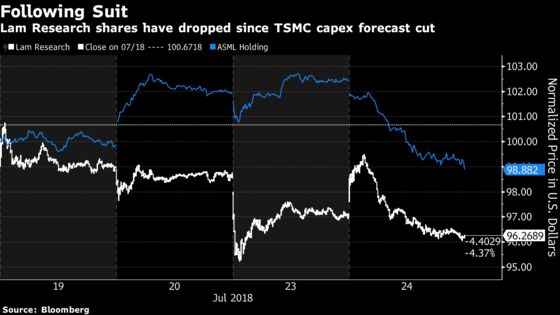 Lam Research shares have dropped 4.4 percent since Taiwan Semiconductor announced its capital spending cut on July 19 through yesterday's close. ASML shares have fallen 1.9 percent. In the last month, the average estimate for Lam first-quarter revenue has decreased by $107 million.
Yesterday, MKS Instruments Inc., a supplier to Lam Research that earns almost 13 percent of its revenue from Lam, forecast third-quarter revenue of $470 million to $510 million, trailing the average analyst estimate of $522.5 million.