ITV Wants to Start a `Best of British' Competitor to Netflix
(Bloomberg) -- ITV Plc, the broadcaster of "Love Island," plans to launch a new streaming service to compete with online rivals such as Netflix Inc., part of a strategy to stay relevant with younger viewers.
"We feel we are uniquely positioned to do that," ITV Chief Executive Officer Carolyn McCall said in an interview on Bloomberg TV. "We know people are willing to pay for other subscription services in this country, particularly if it has distinctive British content."
Taking the fight to Netflix in the U.K. with an offering rich in local content is a keystone in McCall's strategy to continue diversifying revenue at ITV, which makes about half of its sales from advertising. ITV has been in talks with public broadcaster the BBC and Channel 4 about such a service, according to a person familiar with the matter, following the collapse of a similar initiative named Project Kangaroo a decade ago.
McCall said ITV -- best known for "Coronation Street," the world's longest-running soap opera -- is talking to a range of partners, but wouldn't be more specific.
"We're still at exploratory stages and at this stage there's nothing definitive," she said.
McCall's comments came as ITV reported steady half-year financial results Wednesday, with ad sales bolstered by "Love Island" and England's better-than-expected run at the soccer World Cup. Total advertising revenue grew 2 percent in the first six months of 2018, ITV said.
ITV's stock rose 0.1 percent to 170.60 pence at noon in London.
McCall, who joined ITV from EasyJet Plc in January, also announced plans to boost investment by 60 million pounds ($79 million) over the next three years, with a focus on improving ITV's existing catch-up service, the ITV Hub, and continuing to expand ITV Studios, its production arm. The investment plans will be offset by 40 million pounds of cost savings, ITV said.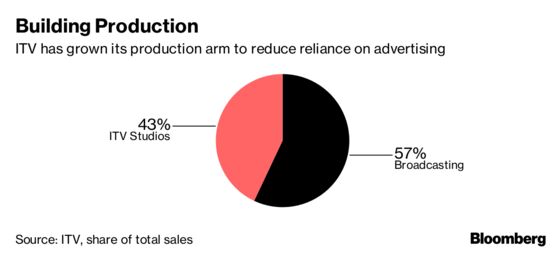 "There's no mammoth bold move here," said Sarah Simon, a media analyst at Berenberg. "Some people had been panicking that there was going to be a kitchen-sinking of the numbers with the new leadership, so there could be some relief."
The rise of Netflix and Amazon.com Inc. -- and the threat of viewers defecting to those services -- has been a top concern for investors in traditional media companies, including ITV. The U.S. giants are increasingly commissioning local content as a strategy to lure new subscribers, a challenge McCall acknowledged.
"If they're going to do local hubs, we'll just have to compete," she said on a call with reporters. "It's about being more competitive. We have the assets that can allow us to do that."
McCall's strategy update comes as Britain's largest free-to-air commercial broadcaster continues to battle a tricky ad market. ITV was badly hit by Britain's vote to leave the EU in 2016 and advertisers continue to be cautious and prudent, McCall said. ITV ad sales are expected to be "broadly flat" in the third quarter, the company said. Those revenues were predicted to grow 0.7 percent, according to an average of three analyst estimates compiled by Bloomberg.