The Tariffs Ate My Earnings, Say Industrials
(Bloomberg Opinion) -- If there's a running theme in the latest batch of industrial earnings, it's rising costs.
Amid a busy day for manufacturers, Boeing Co., General Motors Co. and Pentair Plc had their numbers tarnished by mounting expenses. The culprits were varied: at Boeing, an escalating bill to get the delayed KC-46 Tanker program ready to make deliveries kept the company from raising its 2018 outlook as expected; GM's profit will take a hit because of fallout from President Donald Trump's tariffs on steel and aluminum; Pentair said higher input costs would weigh on third-quarter results before price increases recoup some of the lost margin toward the end of the year. United Parcel Service Inc., meanwhile, is still struggling to profitably handle the flood of e-commerce shipments.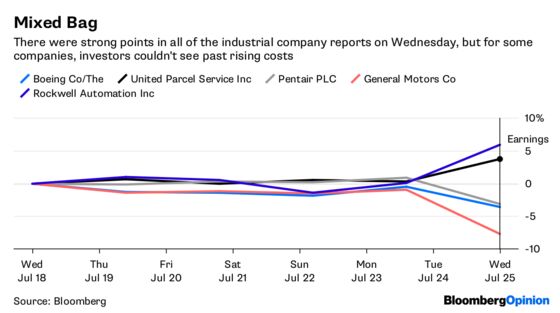 All four companies fell in early trading on Wednesday, although UPS recovered to trade up more than 3 percent. There's no clear connection between them, but their setbacks are symbolic of a challenge for manufacturers writ large. Higher raw material prices, currency swings, labor shortages, supply-chain pressure and secular disruptions of business models all threaten to keep industrial companies from enjoying the full benefits of booming sales. These higher bills are hitting at a time when many companies are grappling with a need to invest more heavily in R&D, digital expansion and other growth initiatives.  
Rising costs are not an unusual phenomenon in the late stages of an economic recovery. Generally speaking, these cost pinches seem to be hitting hardest at shorter-cycle companies—  such as consumer-goods or automotive manufacturers — that are arguably at or nearing a peak in growth. Whatever the extra source of cost, companies aren't going to take the hits lying down. Many have used second-quarter earnings calls to pledge counteracting cost cuts and more aggressive price increases to help protect margins. But tariffs and rising trade tensions put us into new territory.
American companies' business models were built for the pre-Trump world order, where European levies on certain products and intellectual-property theft by China were just part of the game. That's why companies with localized manufacturing strategies for finished goods —  i.e. jet engines and HVAC systems bound for China being produced in China — are getting whacked with tariffs on parts and materials that are sent zig-zagging across borders.
Jim Caron, a fixed-income portfolio manager at Morgan Stanley Investment Management, doesn't see trade tensions easing any time soon, which means manufacturers will have to adapt and reconfigure their supply chains. At the more basic end, this will likely involve finding alternative sources of parts and materials, but Caron says we could eventually see more vertical integration as industrial companies seek greater control over their supply chains.

Boeing is doing this already by taking over more production of aerospace parts and after-market services. Its primary goal is to seize some of its suppliers' more lucrative profit margins for itself, but there is also a perhaps unintentional benefit of giving Boeing more flexibility to respond to geopolitical and trade tensions. Other manufacturers seem apt to mimic this strategy as they adjust to the new trade playing field, whatever that ends up being.
Businesses will adapt because they have to in order to survive, but reconfiguring supply chains or buying out suppliers doesn't come cheap. There's a cost to overturning the status quo; it's just a question of who bears it. United Technologies Corp. CFO Akhil Johri was candid when asked on the company's second-quarter earnings call about the impact of tariffs: the ultimate solution to combating the higher costs is "higher inflation where we and others will attempt to pass all of that to the consumers. So over the long term, you and I pay for this stuff, but that's the way business works."
This column does not necessarily reflect the opinion of the editorial board or Bloomberg LP and its owners.
Brooke Sutherland is a Bloomberg Opinion columnist covering deals and industrial companies. She previously wrote an M&A column for Bloomberg News.