U.S. Investor Targets 26 Bankers Who Worked at Danske
(Bloomberg) -- A total of 26 bankers who worked for Danske Bank A/S in Estonia are the targets of a new criminal complaint filed inside the euro zone by Bill Browder.
Estonia's state prosecutor confirmed it had received the complaint, which it is now analyzing.
"The fight against money laundering is a priority for the prosecutors' office and if the information presented to the office will present signs of a crime, it will be investigated," spokesman Kaarel Kallas said by email.
The co-founder and chief executive officer of Hermitage Capital has already filed a separate complaint against Denmark's biggest bank with the State Prosecutor for Serious Economic and International Crime in Copenhagen, and with the Danish government.
One of the bankers named in the latest filing -- former director of personal and retail banking at Danske in Estonia, Tonu Vanajuur -- resigned on Wednesday from the listing and surveillance committee of the Nasdaq Tallinn stock exchange, the group said. The decision followed an "article published in media today about Danske money laundering," it said. Vanajuur, who also worked as head of corporate banking at Danske in Estonia, has said his resignation from the bank in April was unrelated to laundering allegations.
Browder's allegations focus on mostly Russian money he says was funneled through Danske's Estonian unit in the years 2007 to 2013. The case takes its starting point in $230 million that Browder says can be traced back to transactions linked to the death of his lawyer, Sergei Magnitsky. He says the full amount laundered through the bank may exceed $9 billion.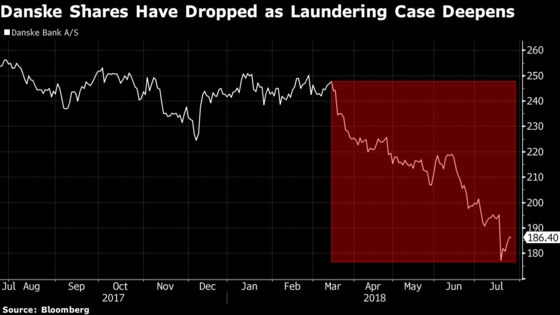 Danske has said it can't comment on the case until it publishes the findings of an internal investigation, due in September. The bank has earmarked about 1.5 billion kroner, or $230 million, in profit from the Estonian unit that management says should be donated to society, though it hasn't yet identified a specific recipient.
In a written response on Wednesday, Danske spokesman Kenni Leth said the bank will, "as we always do, have a constructive dialogue with the authorities if they want to discuss the matter with us."
Read more about Browder's complaint to Danish authorities
Read more about the potential fine Danske may face
Read more about Danske's laundering donation to society
Read more about Danske's second-quarter results
The latest complaint by the Hermitage CEO was filed on July 20 with Estonia's Prosecutor General Lavly Perling, as well as the country's Financial Intelligence Unit. Browder has tried and failed in the past to persuade authorities in Denmark and Estonia to prosecute Danske, though in previous years the amounts thought to have been laundered were considerably smaller.
Danish authorities have maintained they need to focus on the governance issues related to the laundering allegations, and point to Estonia when it comes to prosecuting a potential criminal case.
Though Danske has so far avoided prosecution, it has been penalized by the Danish regulator. The financial supervisor in Estonia has said it may re-open its investigation, citing allegations that the laundering is linked to Russian President Vladimir Putin's family.
In May, the Financial Supervisory Authority in Copenhagen reprimanded Danske for its failure to live up to anti-money laundering rules, adding about $800 million to its capital requirement. The Danish government says the latest revelations have triggered a new FSA investigation and that the case is far from over.
Aivar Rehe, the head of Danske's Estonian operations from 2006 to 2015 and among those named in Browder's complaint, said he couldn't comment because he was in a meeting, when contacted by phone on Wednesday. He has previously rejected claims of any wrongdoing during his tenure.