BRICS GDP Rivals U.S. as O'Neill's View Is Almost Realized
(Bloomberg) -- The views of former Goldman Sachs Asset Management Chairman Jim O'Neill on emerging economic powers may be realized soon.
The combined gross domestic product of Brazil, Russia, India, China and South Africa is almost equal to that of the U.S. O'Neill coined the BRIC term in 2001 to describe the four countries he estimated would match the U.S. in joint economic output by 2020. Brazil, Russia, India and China invited South Africa to join the group in December 2010. The five countries' GDP is now more than 90 percent the size of U.S. output.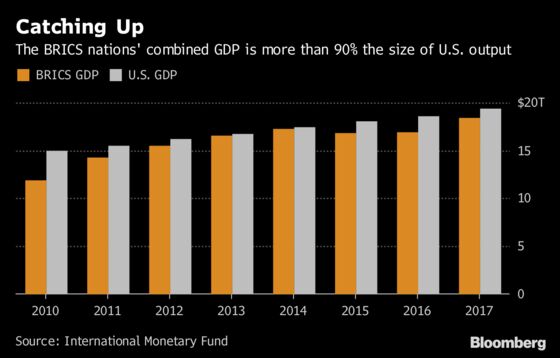 Leaders of the BRICS nations are meeting in Johannesburg this week for their 10th such gathering. They come together at a time when escalating trade tensions between the U.S. and China are threatening to derail a global upswing that's already losing momentum amid weaker-than-expected growth in Europe and Japan. Despite their combined size, the BRICS are feeling the effect.
China is the biggest single trading partner for both Brazil and South Africa -- and it shows. The rand and the real are the worst-performing currencies of the five as Washington and Beijing fire trade-war salvos at each other.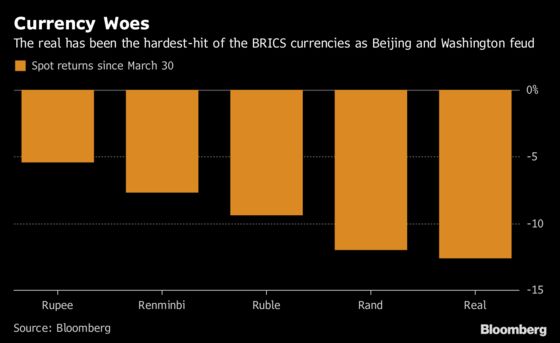 Brazil and South Africa's bonds have also underperformed.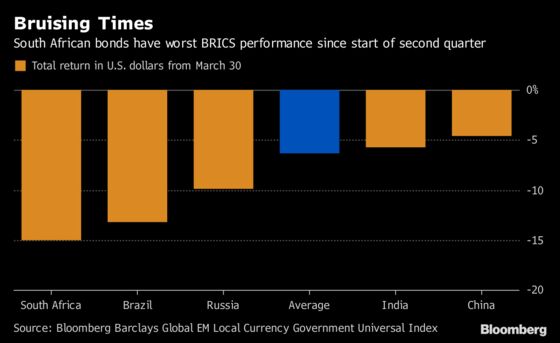 In stocks, only India and South Africa's benchmark equity indexes have managed to make any gains. China's stock market leads the drop in the bloc. The Shangai Composite Index has dropped 10 out of the past 16 weeks.
The countries have more than $4 trillion in foreign-exchange reserves.