Brexit Turmoil Ignites Trading Boom in World's Biggest FX Hubs
(Bloomberg) -- Brexit turmoil is fueling a surge in currency trading in the world's biggest foreign-exchange centers.
Turnover in the U.K. rose to a record $2.73 trillion a day in April, according to data from the Bank of England's Foreign-Exchange Joint Standing Committee. That's up 14 percent from a year earlier, and exceeds the previous record from October 2014.
In North America, market activity rose to $994 billion, 12 percent higher than a year earlier, a report from the Federal Reserve Bank of New York showed. In both regions, the British pound-U.S. dollar currency pair accounted for the biggest jump in volumes.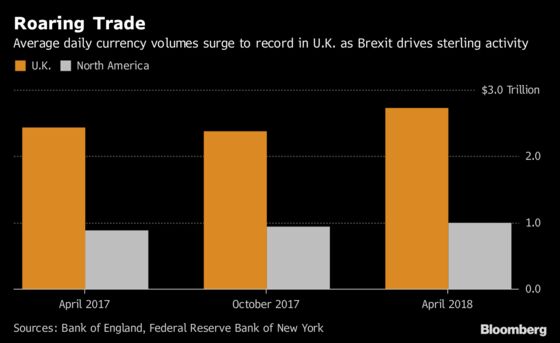 "It's not a big surprise given the flip-flopping we've had on BOE and Brexit politics," said Kenneth Broux, a strategist at Societe Generale SA. "For the pound, you have forces constantly pulling in different directions -- the BOE swerve and dithering on Brexit."
Sterling-dollar trading jumped to a record $351 billion a day in April in the U.K., up 19 percent from a year earlier, the BOE data showed. Banks including UBS Group AG have benefited from wider market volatility, with the Swiss lender's revenue from foreign-exchange and fixed-income products rising 35 percent from a year ago in results released Tuesday.
The surge in trading of the British currency has been spurred by investors turning more optimistic given "the relatively positive evolution of the U.K. economy and the agreement between the U.K. and the EU regarding the transition period after Brexit," said Roberto Cobo Garcia, head of Group-of-10 currency strategy at Banco Bilbao Vizcaya Argentaria SA.
Since April, however, the market has turned more bearish on sterling, with the March 2019 Brexit approaching and investors growing increasingly worried about the prospect of no deal with the European Union. The pound has weakened about 6 percent over the past three months as uncertainty created by Brexit negotiations muddies the outlook for the BOE's withdrawal of monetary stimulus.
"Our traders still think that we could see higher volumes and that the market is still not as liquid as it should be given the monetary policies of the past few years," Cobo Garcia said.