Brexit Bulletin: Going Her Own Way
(Bloomberg) -- Today in Brexit: Theresa May is stamping her authority on Brexit. This could mean a softer one, as long as she can get it through Parliament.
Theresa May has put up with two years of infighting in her Cabinet about what Brexit should mean. Now she's doing it her way.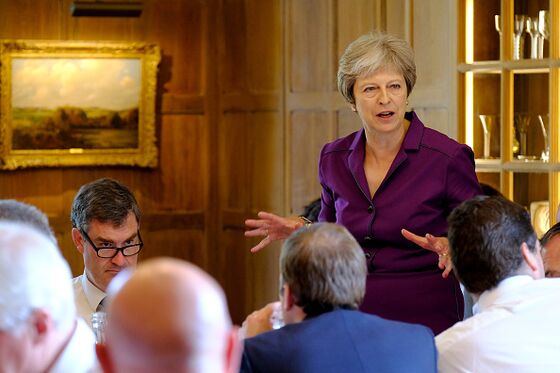 The pound rallied on Tuesday when May announced that she was taking control of negotiations. She relegated the Brexit Department, which has caused her so much trouble in the two years since she created the office and filled it with pro-Brexit officials, a move that had put politics above efficient management. May and her advisers have favored a softer approach to the divorce than the Brexit Department. Now the message is clear: Her adviser Olly Robbins, who is liked in Brussels and distrusted by Brexiteers, gets a lot more power to do what is necessary to make sure a deal is done.
Brexit Secretary Dominic Raab, who was only appointed this month after David Davis resigned in protest, gets something in return for being sidelined: May is keeping him close and showing him all the paperwork—something that didn't happen with his predecessor. Tim Ross reports that Raab went straight into a meeting with May on Tuesday—just after he endured three hours of parliamentary grilling and jibes about his apparent demotion. 
May's move is a consolidation of the power grab she made with the Chequers deal earlier this month. She presented ministers with her vision and told them to like it or lump it. The ones who didn't like it resigned, and she defied the conventions of modern British politics to remain in her job through the storm. May is now fighting on two fronts rather than the three she has become used to: She still has to convince Brussels of the merits of her plan (Brussels is being polite but has some serious doubts). And she still has to squeeze through Parliament whatever final deal she comes back with.
May has survived to recess. Lawmakers will now go on holiday, where it will be harder for them to plot against her. But the parliamentary arithmetic won't change over the summer. If former Brexit Minister Steve Baker is right, there could be 80 Conservative lawmakers who don't like her plan. The question becomes whether they will vote for her anyway to avoid Brexit being derailed altogether, and whether May can pick off enough opposition lawmakers to vote with her.
Irish Border Hints | The latest white paper offered nothing new on the issue of the Irish border. But Raab dropped a hint in answering—or failing to answer—lawmakers' questions. Asked if there could be a regulatory border down the Irish Sea, which means checks between Northern Ireland and Britain, he didn't answer, saying only: "We will do everything we can to protect the integrity of the U.K." Back in June, we reported that just such a plan was in the mix. The Democratic Unionist Party that props up May would hate it.
Stocking up Blood | Raab promised there would be enough food supplies in the case of a no-deal Brexit, even as it wouldn't necessarily be the government doing the stockpiling. New Health Secretary Matt Hancock found himself promising lawmakers on Tuesday there would be enough blood to go around.
The Bill Could Get Bigger | The government has acknowledged that the estimate of £35 billion to £39 billion for the divorce settlement could change, because of a "number of technical factors."
The Bill for Banks | UBS Group AG says it's facing a hit of more than 100 million francs ($100.5 million) because of Britain's departure from the bloc, after totting up the cost of relocating staff from the City of London and legal bills. HSBC Holdings Plc, one of the first banks to spell out the cost last year, estimated a figure of as much as $300 million.
Banks and No Deal | The Treasury is preparing legislation so that European Union finance firms would be able to continue to operate on a temporary basis in the event of no-deal. Chancellor of the Exchequer Philip Hammond also said that businesses and universities that have secured EU funds through 2020 will get the money even if there's no deal.
On the Markets | On Tuesday, the pound rose to a one-week high against the dollar after May said she will take control of Brexit talks, as investors bet on a softer exit from the bloc. Meanwhile Brexit turmoil is fueling a surge in currency trading in the world's biggest FX centers, Lananh Nguyen and Charlotte Ryan report.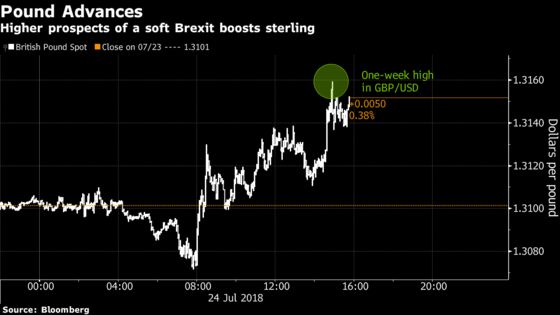 Raab's Shaky Start | Raab didn't have the best start in front of the Brexit Committee. It didn't help that he was sitting next to Robbins. One Conservative lawmaker suggested that the two men should swap places, now that Robbins was really in charge after the Brexit department's relegation. Raab failed to answer the first two questions, saying he'd have to "check" on the answers. By the end, he offered to take home a "shopping list" of all the questions that still needed answering. At one point the new secretary of state even got his seas confused, saying he didn't want any new borders in the Red Sea.