Biogen's Results Leave the Alzheimer's Puzzle Unsolved
(Bloomberg Opinion) -- It's hard not to cheer when a drug is shown to have a very real potential to help patients with Alzheimer's disease — a common, devastating, and currently uncurable condition. But some restraint is needed when reacting to the results released late Wednesday for the treatment being developed by Biogen Inc. and Eisai Co.
The drug, BAN2401, was shown to significantly slow cognitive decline after 18 months of treatment at a high dose — depending on how you measure it. Regardless of the qualifier, this is absolutely a promising outcome and the data is better than I, a skeptic on Alzheimer's studies, expected in some respects. But there's much more testing to be done before anyone can be sure about this result, and it will take a long time.
Taken together, this isn't the home run some investors were looking for, and they've already started adjusting to that reality. After driving the shares to a three-year high in the lead-up to the release of the results, Biogen's shares slumped more than 10 percent in after-hours trading on Wednesday.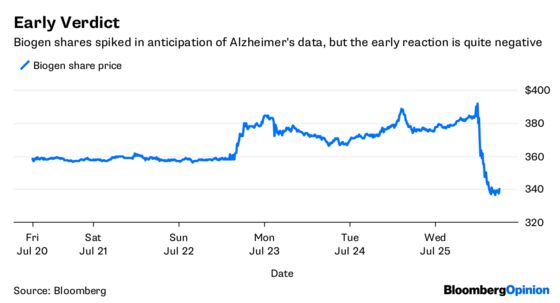 There's huge variation in the way Alzheimer's affects people and how it progresses, which is one reason every previous effort to treat it has failed spectacularly. Many past disappointments have relied on the same theory of treating the disease that BAN2401 does, known as the amyloid hypothesis. 
Some of the numbers released in the latest study are highly impressive, like the finding that a high-dose drug slowed cognitive decline by 30 percent by one measure. But the measure in question is a novel composite designed by Eisai that some experts question. And the drug didn't hit statistical significance on a different scale. Also, according to Bloomberg Intelligence biotech analyst Asthika Goonewardene, the trial had an imbalance in a certain category of patients that may have affected results.
Those looking for other issues to quibble about in the data can find them. Like this: The best-performing dose was only given to 161 patients, and other doses of the drug numerically underperformed a placebo. 
The two companies would like to bring this data directly to regulators and seek an approval. But there are enough questions that a larger and longer final-stage trial should be required. And remember, the final-stage trial on Biogen's most advanced Alzheimer's drug began in 2015 and likely won't reveal conclusive data until 2019. 
A bigger trial comes with lots of risks, given how strange the mid-stage test was. It used an unusual adaptive design that arguably makes it tougher to interpret. After an earlier look at the trial showed that it had failed, it took a different statistical approach to produce this success. 
There's absolutely enough here to justify hope and a bigger test — the more straightforward the better.
This column does not necessarily reflect the opinion of the editorial board or Bloomberg LP and its owners.
Max Nisen is a Bloomberg Opinion columnist covering biotech, pharma and health care. He previously wrote about management and corporate strategy for Quartz and Business Insider.