AT&T Won't Ruin HBO, But It May Netflix-ize It
(Bloomberg Opinion) -- No, AT&T probably isn't going to ruin HBO. 
John Stankey, the longtime AT&T Inc. executive appointed to run its recently acquired Time Warner division (now called WarnerMedia), caused quite a stir this month in his and AT&T CEO Randall Stephenson's early days as media moguls. The New York Times got its hands on a recording of Stankey speaking alongside HBO boss Richard Plepler at a town hall meeting for the network's employees. Some of Stankey's remarks about wanting more from HBO were taken to forewarn of a culture clash, and that the beloved brand known for only the most premium programming would be transformed into a Netflix Inc.-like content factory, forced to churn out show after show to juice profits at the expense of quality.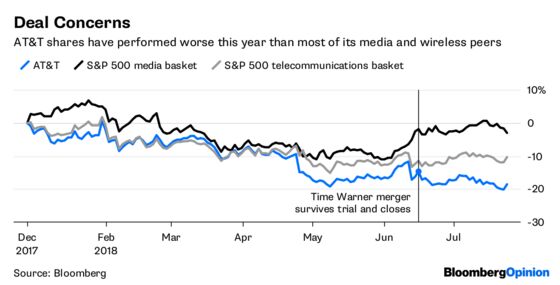 But there are two problems with that notion: 1) HBO was the crown jewel for AT&T in the Time Warner deal, so why would the company entirely scrap the strategy that's made HBO so successful, especially when the new owners have no experience running a media business? 2) Netflix's 56 million paid streaming customers in the U.S.—124 million worldwide—prove that keeping a full roster of shows and movies with some degree of varying value works.
The great thing about Netflix is its mix. For the binge-watchers, there's always something new to see. But there's also heavy-hitting, HBO-like content that more than justifies the $11-a-month fee. After all, Netflix unseated HBO as the most-Emmy-nominated network this year with 112 nominations; HBO received 108.
Of course, the first question on AT&T's earnings call Tuesday evening—the company's first since buying Time Warner—was about its plans for HBO. Stankey clarified his comments, saying that HBO has had projects "in the funnel" that couldn't get the green light because of insufficient resources, which he wants to change. Here's the key part:
"What we're attempting to do is open up those constraints on very high, top-quality projects that we think will balance out the schedule, so that we have a more engaging experience with HBO throughout the course of the year. That will improve the fact that we can see, especially on the digital platforms, customers jumping in and out based on scheduling. If we can smooth that schedule, we can drive churn down or improve retention and power additional subscriber growth."
HBO does need its scheduling smoothed out. Here's what I mean: For anyone not getting their fix of Redstone or Murdoch billionaire family drama lately, there's a great series on HBO called "Succession" that'll fill that hole. But after watching Netflix lately and then going to HBO, it sure is a turnoff to have to wait a week for a new episode to air—"air" feels quaint these days, doesn't it? HBO is still a linear-TV-based network that needs to prioritize those higher-margin viewers, even if cable subscribers are a shrinking crowd. That's an issue Netflix doesn't have.
Stankey is simply saying there should always be something to entice people to HBO and that it shouldn't have lulls—such as the long wait for the next and final season of "Game of Thrones" coming in 2019—where it cedes viewers to Netflix or any of the other dozens of streaming and on-demand services being launched by rival networks, legacy pay-TV providers and upstarts. Digital viewers can easily cancel subscriptions until there's something new they want to watch, so until that changes, more is better. HBO has more than five million online subscribers so far, but with more must-see shows one can imagine that number climbing more quickly.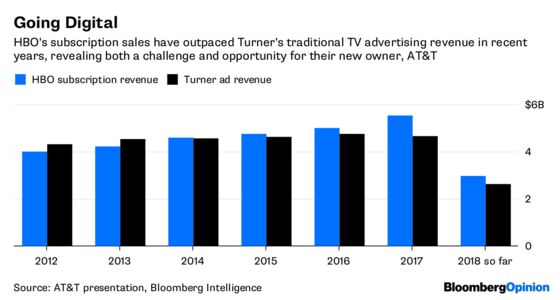 Shira Ovide noted last week that Netflix's cash programming expenditures were $10.1 billion in the last 12 months, about four-and-a-half times what HBO spent in 2017 to buy or produce its shows and movies. Stankey wouldn't disclose how much more the network will have at its disposal, and even if he did, saying is different than doing. AT&T still has much to prove with this Time Warner purchase.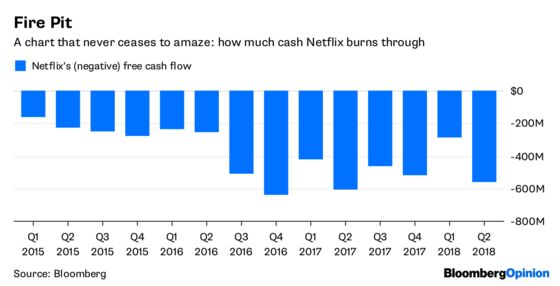 Netflix's business model also isn't necessarily something to emulate. It burns cash, and its growth is dependent on the debt market continuing to embrace that kind of business model. But other media companies can't just wait around for Netflix to break. The best use of resources right now is buying or producing content that feeds the beast, and HBO's reputation combined with AT&T's deeper pockets, give it some room to experiment with that.
This column does not necessarily reflect the opinion of the editorial board or Bloomberg LP and its owners.
Tara Lachapelle is a Bloomberg Opinion columnist covering deals, Berkshire Hathaway Inc., media and telecommunications. She previously wrote an M&A column for Bloomberg News.