As Facebook Soars to New Highs, Options Bulls Position for More
(Bloomberg) -- Facebook Inc.'s four-day streak of gains ahead of its second-quarter earnings has pushed the shares comfortably back into record territory. Options investors are betting they'll stay on that trajectory through the end of the year.
Earlier in today's trading session, one investor appears to have bought the December $230 / $260 call spread while selling September $215 calls. Approximately 12,500 December $230 calls were bought for $9.95, at the same time 12,500 December $260 calls were sold for $2.83 per contract. Simultaneously, approximately 9,300 September $215 calls were sold for $10.10, potentially closing a trade from July 16th when a similar amount of contracts were bought for $6.70.
In buying call spreads, options investors buy a lower strike while selling a higher strike which allows them to offset the cost of the trade. In turn, gains will be capped based on the level of the higher strike.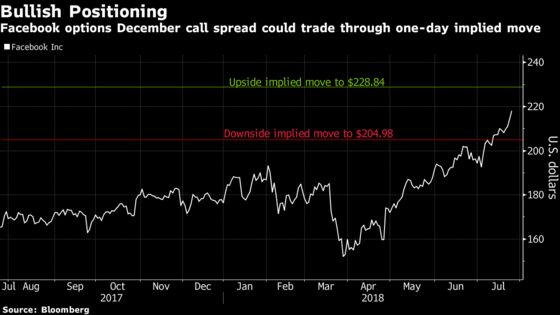 Facebook has rallied more than 43 percent from a 12-month low of $149.02 in March. The current implied 1-day options move is 5.5 percent versus an historical average move of 6.5 percent. July implied volatility is close to 90 versus 100-day historical average of 31, putting it in the 67th percentile, according to data compiled by Bloomberg. Total put and call open interest has decreased by 4 and 5 percent, respectively, since June 22. Today's action supports a further rally into year-end.
The social media giant is scheduled to release its second-quarter earnings after the close of trading this afternoon. Analysts expect the company to post post record revenue and users in the quarter, thanks in part to the photo-sharing app Instagram.