Verizon Snubs Hollywood for Tech. Good Call.
(Bloomberg Opinion) -- Verizon Communications Inc. closed the books on a critical quarter. The company named its next CEO, shut down its latest experiment in a string of failed mobile-video services, geared up for its rollout of 5G network service and watched with insouciance as its three closest rivals—AT&T Inc., T-Mobile US Inc. and Sprint Corp.—took bold steps on the merger front.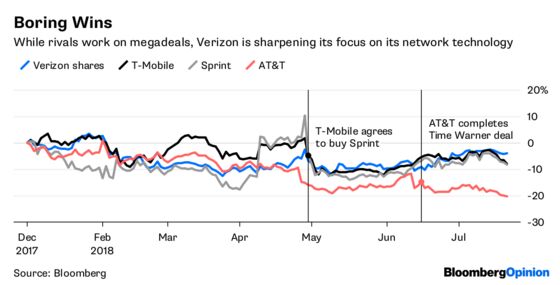 All this is giving a clearer picture of what a future Verizon looks like in a world where telecommunications, media distribution and entertainment are converging and industry stalwarts try to ward off Netflix Inc., a cash-burning, debt-dependent business that's somehow never been a bigger threat. Verizon is signaling that its focus will remain where it's always been—on its network technology—rather than jumping on the deal bandwagon or going all-in on a content bet. That's not for lack of trying.  
Verizon said Tuesday that it took a $658 million pre-tax charge in the second quarter related to the discontinuation of go90, an ad-supported mobile-video app the carrier has provided free to wireless subscribers since October 2015, which targeted young people with TV series, reality shows and sports. Come next week, go90—the name tells users to flip their phone 90 degrees to watch videos full-screen—will be laid to rest in the ever-expanding graveyard of Verizon's short-lived video ventures. Meanwhile, Oath, the division that merged AOL and Yahoo and is led by Tim Armstrong, will serve as the command post for Verizon's media efforts. Oath's revenue was $1.9 billion for the quarter, about 6 percent of Verizon's total sales.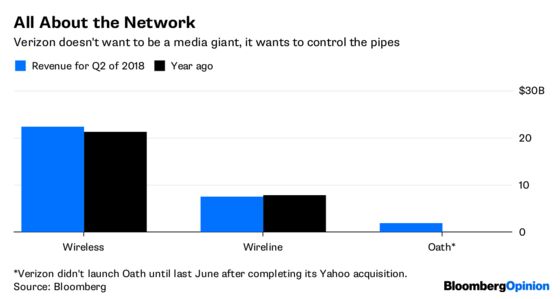 Like the company's past mobile video offerings, go90 never garnered a sizable enough audience. Part of the reason may be that for some readers this is the first time they're hearing about it; promotion beyond Verizon's core wireless network has always been a weak spot. Long before go90 there was V Cast TV in 2007, which actually made Verizon an early mover in mobile-video entertainment. But it killed the service five years later and replaced it with Verizon Video. Then came Viewdini in May 2012, a search platform that aggregated videos from different content providers. The following year it launched Redbox Instant, dissolving the partnership in 2014.
Verizon's missteps in mobile video have steered it toward a hopefully more promising and lucrative play. Bloomberg News reports that Verizon is seeking to partner with Google or Apple to offer TV when it launches residential 5G service in Los Angeles and Sacramento. The goal is that 5G, expected to provide extremely fast connections, will enable Verizon to compete against the likes of AT&T and Comcast Corp. in selling consumers internet and online TV packages. 
These negotiations will continue under Hans Vestberg, Verizon's technology chief who will become CEO next week as Lowell McAdam heads toward retirement. The choice of Vestberg confirms that Verizon will devote its resources going forward to its technology strengths, rather than chase the declining linear TV business or narrow margins of subscription-based skinny streaming bundles. It's an entirely different tack than rival AT&T, which paid a boatload for DirecTV and most recently Time Warner to expand into satellite-TV, streaming and content production.
While AT&T also plans to ramp up capital expenditures to near $25 billion this year as part of the race to provide 5G services, Verizon said its capex should be around $17 billion in 2018, roughly in line with previous years. Verizon has explained that by "densifying" its 4G network—installing small cellular sites, rather than large towers, to handle increased data demand—it already has a lot of the infrastructure in place needed to deploy 5G, making the switch less onerous in some ways than when it moved to 4G LTE service. It also plans to use savings from tax reform and cost cutting to reduce debt, which stands at more than $100 billion, a result of the company buying out Vodafone Group Plc's interest in Verizon Wireless in 2014.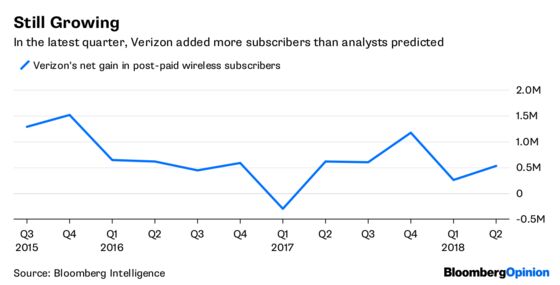 Given Verizon's strong results for the wireless business in the second quarter, McAdam has put the company on a solid path with a strategy that may leave investors even less invigorated by AT&T's risky, debt-funded entry into Hollywood. So RIP, go90. Welcome, 5G. 
This column does not necessarily reflect the opinion of the editorial board or Bloomberg LP and its owners.
Tara Lachapelle is a Bloomberg Opinion columnist covering deals, Berkshire Hathaway Inc., media and telecommunications. She previously wrote an M&A column for Bloomberg News.