The Other Earnings Season: Small-Cap 'Zombies' Go Nowhere But Up
(Bloomberg) -- As Wall Street falls over itself to praise the earnings performance of U.S. blue chips, a different story is playing out at the market's more speculative edge.
It's in small caps, the stocks that have been carrying investors in 2018, as trade wars dimmed sentiment toward their multinational brethren. A closer look at the group reveals an interesting fact: one-third of them don't make any money. And that group is rallying 50 percent faster than the rest of the market.
Money-losing small caps have rallied 14.5 percent on average this year, beating a 9.2 percent increase in profitable ones, data compiled by of Leuthold Group showed.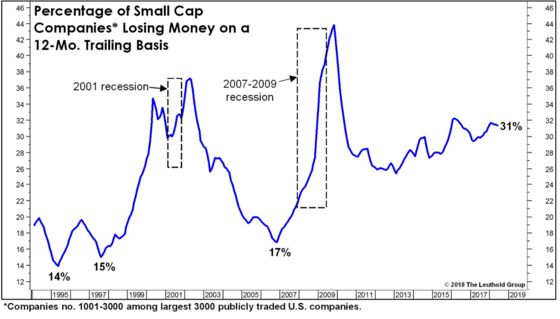 While profitlessness is a trait investors are often willing to live with in growing firms, the proportion of small caps without earnings is historically high at the moment, particularly at a time when S&P 500 companies are reporting record results. To Doug Ramsey, Leuthold's chief investment officer, the proliferation reflects a shrinking pool where good companies disappear through means such as takeovers, but also an unintended consequence of the Fed's decade-long policy to hold down interest rates.
"The past nine years' extremely loose monetary policy has kept alive corporate 'zombies' which might have perished in a normal interest-rate environment," Ramsey wrote in a note. "There's certainly evidence that extremely low interest rates have subsidized (if not incented) the perennial money losers."
Plotting the share of money-losing firms and the real yield on 3-month Treasury bills, the Minneapolis-based firm found that the two have shown an inverse relationship since the early 1990s. The lower the borrowing costs, the more unprofitable companies exist.
Right now, Treasury bills still yield less than inflation, meaning the cost of debt gets cheaper over time. According to data from Leuthold, real short-term interest rates peaked above 3.5 percent in 1998 and 2006, each time coinciding with troughs in the percentage of money losers.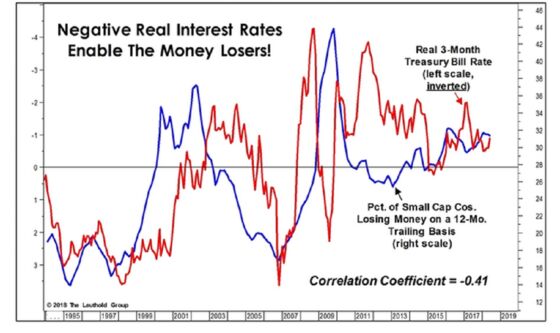 Going by history, that kind of credit crunch looks a long way off. While the Fed has raised interest rates seven times since 2015, 3-month Treasury bills yielded less than 2 percent, compared with an annualized increase of 2.3 percent in consumer prices in June.
Meanwhile, investors have been willing to pay up for small-caps, even as the group's earnings scorecard trails their larger counterparts. The Russell 2000, a benchmark for small caps, is up almost 11 percent this year, double the gain in the S&P 500, a gauge for large caps.
Among companies that have reported this season, 73 percent of the smaller firms exceeded analyst estimates, lagging behind the 92 percent for the S&P 500, data compiled by Bloomberg show.
While lower interest rates have helped companies stay afloat longer than warranted, investors should be prepared for turmoil when things unravel, Ramsey warned.
"The level of rates, especially when viewed on a real basis, continues to reward poor allocation decisions," Ramsey wrote. "Bulls who hope this will extend the cycle should also expect a deeper eventual downturn."