PSA's Results `Boom!' Sends Shares to 7-Year High: Street Wrap
(Bloomberg) -- PSA Group shares rose to the highest level since July 2011 after the French carmaker reported first-half results that analysts called "immense" and "more than impressive" as a turnaround of the Opel brand started to become visible.
The auto sector has been under pressure in recent months, penalized by U.S. President Donald Trump's threats of a trade war, and is among the worst-performing sectors on the Stoxx Europe 600 index this year. Peugeot is the first European carmaker to report results, and may set a positive tone for companies reporting in coming days, including Fiat Chrysler Automobiles N.V. on Wednesday and Daimler AG on Thursday.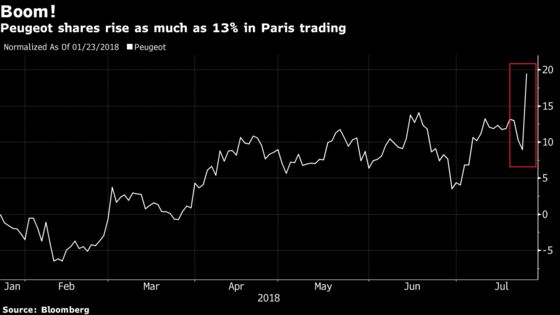 Here's what analysts had to say about the results:
Bernstein (outperform), Max Warburton
First-half results are "quite simply immense," Warburton says in note titled "BOOM!" He highlights that the Opel-Vauxhall (OV) turnaround is progressing much faster than expected, with 1H numbers exceeding the brokerage's "wildest dreams." He argues that a fundamental reset of expectations and view is needed after results.
Bryan Garnier (neutral), Xavier Caroen
"More than impressive" operating figures for both the Peugeot-Citroen-DS (PCD) and Opel segments, thanks to a solid product mix and cost reductions. The group posted record figures which could lead to favorable revisions to 2018 EPS estimates.
Evercore ISI (in-line), Arndt Ellinghorst
The carmaker posted a beat of more than 30 percent in the first half as Opel appeared to "rise from the ashes." The core PSA operations also had a very strong half and net financial position improved.
Jefferies (buy), Philippe Houchois
The carmaker reported "impressive numbers all around" and consensus estimates are likely to be revised materially. He notes the company didn't change the outlook, which now looks "quite outdated."