Pound Jumps to One-Week High as May Takes Control of Brexit Talks
The pound rose to a one-week high against the dollar after U.K. Prime Minister Theresa May said she will take control of Brexit talks, as investors bet on a softer exit from the European Union.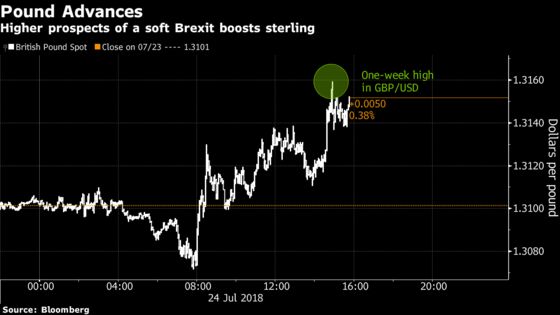 Sterling climbed as much as 0.4 percent to $1.3159, the highest level since July 17, after May said she will lead Brexit negotiations, relegating the Brexit Department headed by Dominic Raab. Analysts said that this could increase chances of a softer Brexit and thus help support the pound in the near term.
This is "short-term pound positive as it's likely to lead to a softer Brexit," said Neil Jones, the head of hedge fund currency sales at Mizuho Bank Ltd. in London. "The market will see this as the hard-line Brexiteers are on the way out. The pendulum will shift to a softer stance."
Despite the prospects of tighter monetary policy from the Bank of England, the pound has weakened almost 3 percent this year against a resurgent dollar as patchy U.K. data and the lack of clarity on Brexit negotiations weighed.
"It remains to be seen whether this will boost the chances of successful implementation of PM May's Brexit plan," said Valentin Marinov, head of Group-of-10 currency research at Credit Agricole CIB. "After all, the EU is the other party to the negotiations and they were not all in favor of the plan, at least for now."