Crystal Ball Comes Up Lucky on Illinois Bonds
(Bloomberg Opinion) -- Illinois scored one of its biggest bond-market victories in recent memory last week when Moody's Investors Service boosted the state's outlook to stable from negative. In doing so, the credit-rating firm removed the immediate threat of junking the Land of Lincoln's debt.
It's not surprising that Illinois bonds rallied after the news. What is curious, though, is that trading spiked even before Moody's released its report.
Moody's disclosed its outlook change at about 4 p.m. New York time on July 19. A day before, at least $58.6 million of Illinois's benchmark taxable bonds traded hands, the largest volume since the lowest-rated U.S. state passed a budget on May 31. Overall, Illinois was the seventh-most traded issuer across the $3.8 trillion municipal market. A week before, it barely cracked the top 50, Bloomberg data show.
The bulge in trading raised at least a few investors' eyebrows. After all, Illinois is hotly watched because its bonds yield not just more than any other state, but they demand an even higher premium than some unrated muni deals. If you believe a default from a U.S. state is ludicrous, then Illinois's general obligation bonds provide an easy way to boost returns.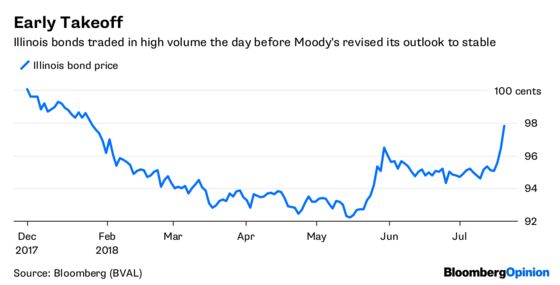 Illinois's bond-market penalty has narrowed in the past week. The taxable debt traded at an average 97.9 cents on the dollar on July 20, the highest in six months, to yield 5.3 percent. Two days earlier, it traded at an average 95.6 cents to yield 5.53 percent.
At least one mystery buyer who bought $5 million (or more)of the debt 24 hours before the Moody's change earned a quick and tidy profit. For some munis, such a huge block would offer a big hint as to who it might be. But for this particular $7.65 billion Illinois bond, which matures in 2033, it seems as if just about every large fund manager owns a piece. Samsung Asset Management is the biggest holder, followed by Capital Group Cos., Dodge & Cox, Fidelity Investments and Vanguard Group Inc.
Of course, the timing of the trades doesn't necessarily mean anything nefarious happened. My top theory is based on the fact that Moody's had already revised its outlook on Chicago to stable on July 12. The firm has been the harshest on both Illinois and its largest city for their underfunded pensions. An astute investor might have remembered that Moody's placed Illinois on review for possible downgrade on July 5, 2017, and put Chicago in the same camp two days later. Connecting the dots, if Chicago was now considered stable, than Illinois probably should be, too.
But for the more conspiracy-minded, the advance jump in trading suggests somebody knew something ahead of time. As part of Moody's nine-step process, the rating committee convenes to reach a recommendation, then the issuer is notified of the decision, and finally the report is disseminated publicly. According to company spokesman David Jacobson, the time between each of those steps varies both by sector and region. In theory, there may have been some room for shenanigans. We may never know for sure.
Regardless, the big winner in all of this is Illinois. Moody's proved with its drastic downgrade of Chicago to junk in 2015 that it's not afraid to take tough actions against big municipal borrowers. The threat that it could take a similar step with Illinois had clearly been weighing on the state's bonds, which earlier this year yielded as much as 2.12 percentage points more than AAA debt.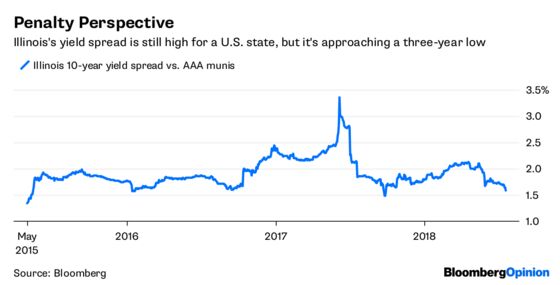 That spread is now 1.59 percentage points. For any other U.S. state, that would still represent a hefty penalty. But for Illinois, it's close to the smallest premium demanded since mid-2015, when an impasse between new Republican Governor Bruce Rauner and the Democratic-led legislature left it without a budget for two years. Even just a stable outlook at Baa3, the lowest investment grade, is a step up from that era.
For now, this latest bit of relief might be the best the state can hope for. Ted Hampton at Moody's said after Illinois passed its spending plan that "I don't think just getting a budget passed by the end of the regular session is any sort of accomplishment that's positive." 
That may be, but mere stability was clearly a boon for those who had previously snapped up the state's bonds. Investors have to think that as long as Illinois isn't in the crosshairs of the credit raters, its debt will continue to shine.
This column does not necessarily reflect the opinion of the editorial board or Bloomberg LP and its owners.
Brian Chappatta is a Bloomberg Opinion columnist covering debt markets. He previously covered bonds for Bloomberg News. He is also a CFA charterholder.