U.K. Government Workers Get 2% Pay Rise
(Bloomberg) -- A million U.K. teachers, soldiers, doctors, dentists, police and prison officers will benefit from the lifting of a seven-year cap on public-sector pay but the announcement Tuesday prompted warnings of further cuts to services and jobs.
Most will see their basic pay rise by 2 percent for 2018-19 in the largest boost for state employees workers since a pay freeze in 2010, when the government made reducing the budget deficit its main priority.
The settlement will come from savings made in other areas of government spending rather than extra money from the Treasury. The government will need to find an extra 800 million pounds ($1.05 billion) a year to fund the awards, with education and health facing the largest cost, the Institute for Fiscal Studies estimated.
"Behind the good news headlines, the government is simply robbing Peter to pay Paul," said Christina McAnea, assistant general secretary of the Unison public services union. "Sadly these pay rises won't be pain free for schools and police forces. Without extra resources, already beleaguered budgets will now have to be raided."
Pay was frozen for all but the lowest earners in 2010 and increases were capped at 1 percent from 2013 as part of efforts to reduce spending in the aftermath of the financial crisis. That cap had been due to last until 2020.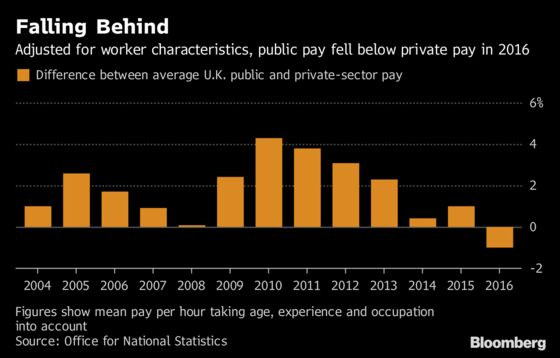 But last year, May bowed to pressure and announced the government would be lifting the ceiling. The move was partly a response to the electoral threat from the opposition Labour Party led by socialist Jeremy Corbyn, who has pledged to increase government spending overall.
Increases for police and prison officers were followed by the announcement that more than 1 million NHS workers would receive a 6.5 percent pay rise over three years. However, the deal did not include doctors and dentists, who are covered by today's announcement.
Including "non-consolidated" elements, the settlement includes up to 3.5 percent extra for teachers, 2.9 percent for the armed forces and 2.75 percent for prison officers -- all ahead of the 2.4 percent current rate of inflation. Police officers will get a 2 percent rise, as will junior doctors, general practice doctors and dentists.
"It looks like lower earners, particularly new teachers, in the public sector are catching up slightly with private sector," said Jonathan Cribb, senior economist at the IFS. "But lower earners, such as doctors, are still falling behind the private sector average."
The awards underscore the growing spending pressures facing Chancellor of the Exchequer Philip Hammond ahead of his Autumn Budget. The government last month pledged an extra 20 billion pounds for the NHS following another winter health crisis but it has yet to explain how the increase will be funded, raising fresh doubts over plans to erase the budget deficit by the middle of the next decade.