Turkish Lira Traders Brace for Higher Rates or Market Rout
(Bloomberg) -- Turkish policy makers will have to step up to the plate and raise interest rates on Tuesday to restore credibility or face a market rout.
Turkey's lira and bonds have rebounded from record lows earlier this month on speculation the country's central bank will look past President Recep Tayyip Erdogan's calls for lower borrowing costs when it sets policy on Tuesday. With most economists forecasting a hike, Aberdeen Standard Investments says the lira could tumble some 25 percent to an all-time low of 6 per dollar if officials surprise markets by not acting.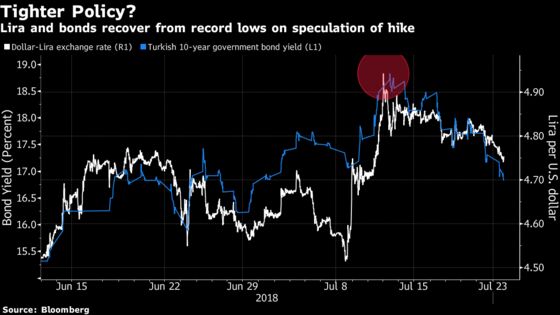 "It would be too risky not to hike," said Viktor Szabo, a fund manager at Aberdeen Standard in London, who says an increase of at least 100 basis points is needed. If not, inflation could accelerate to 20 percent from the current rate of 15 percent and the government could face a buyers' strike in the primary bond market, he said.
The wagers for a tighter stance are a sign of just how little wiggle-room authorities have to keep stimulating the economy. Erdogan assumed more control of economic policy as the nation's first executive president last month, and while his desire to keep fueling growth is no secret, pressure is building on the central bank to regain credibility in the eyes of investors by proving its independence and cooling inflation.
For many investors, Tuesday's meeting "may just be the last fragile hope they have that Turkey will, despite political pressures, increase rates to lower inflation and curb the fall of the lira," said Nora Neuteboom, an economist at ABN Amro Group NV in Amsterdam.
Consumer-price growth is running at more that three times the official target, and the nation's bloated current-account deficit is among the widest in emerging markets after months of stimulus. Nineteen out of 23 economists in a Bloomberg News survey predict the central bank will increase its benchmark rate, with 10 predicting an increase of 100 basis points to 18.75 percent.
The lira surged more than 1 percent on Monday, extending a rally from a record low to over 4 percent and paring this year's loss to 20 percent. The yield on the 10-year government notes fell 48 basis points, taking a drop from an all-time high earlier this month to more than 200 basis points.
"We think a hike of at least 100 basis points is an absolute must," said Burak Kanli, an economist at Istanbul-based Finans Invest. Tuesday's meeting will be a "litmus test" on "whether or not the central bank will be able to act independently and consistently with the realities of the Turkish economy."