Lira Plunges After Turkish Central Bank Unexpectedly Holds Rates
(Bloomberg) -- Turkish policy markers failed to give the market what it wanted, and investors are punishing them for it.
They dumped the nation's bonds, pushing the yield on the 10-year government note up by the most on record after the central bank unexpectedly held a key interest rate, diminishing confidence in its resolve to quell inflation. The lira slumped toward a record low.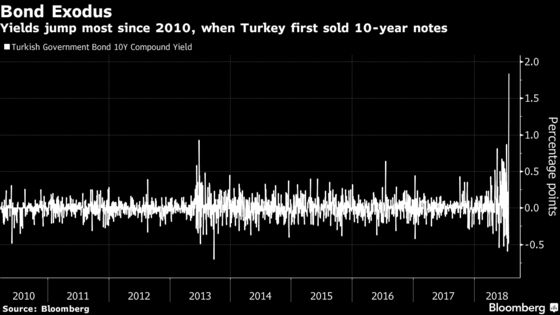 Most economists in a Bloomberg survey were expecting a 100-basis point increase in the one-week repo rate to 18.75 percent after inflation accelerated to more than three times the central bank's target in June. The central bank's decision adds to speculation that President Recep Tayyip Erdogan -- a long-time advocate of alternative economic theories that favor lower rates -- is now influencing monetary policy.
"This decision essentially confirms the markets' worst fears about the central bank's independence," said Inan Demir, an economist at Nomura International in London. "Unless this policy mistake is corrected by an emergency rate hike very soon, the markets' fears will translate into further substantial lira weakness."
The lira traded 2.9 percent lower at 4.8855 per dollar as of 7:49 p.m. in Istanbul after earlier slumping as much as 4 percent. The yield on the nation's 10-year bond surged 184 basis points to 18.67 percent.
Here's a selection of comments from analysts:
It's "remarkable that they chose not to hike," said BlueBay Asset Management strategist Timothy Ash. "Despite all the warm words from Albayrak this week, this was a mistake by the CBRT"
"The market likely will test the CBRT again. Strange that Albayrak said that the CBRT would not fight the market - but the CBRT seems to be doing exactly that"
Old Mutual Global Investors:
"Well, this is obviously a disappointing decision that shows the CBRT's priority doesn't seem to be inflation targeting anymore," said Delphine Arrighi, a portfolio manager at Old Mutual Global Investors. "I would not be surprised to see USDTRY flirting with 5"
"This was a major policy mistake from the Turks and a missed opportunity to build on the credibility they gained with +500bps of policy tightening delivered during Q2," said Paul Greer, a London-based emerging market money manager
"The markets had expected a +100bp rate hike and this was viewed as the absolute minimum required to appease continued investor fears about the country's outlook"
"Following today's developments, we remain cautious on the Lira and Turkish local currency bonds and expect further additional risk premium to now be priced into the market"
"As we've argued numerous times, pursuing looser economic policy will simply exacerbate the vulnerabilities in Turkey's economy and, ironically, increase the market pressure on the Turkish central bank to take emergency action," said Jason Tuvey, a senior emerging market economist
"More than anything, though, the decision to leave rates on hold provides the first evidence that President Recep Tayyip Erdogan holds increasing sway over Turkish monetary policy"