GM, Ford Earnings Likely to Be Overshadowed by Trade, Cost Woes
(Bloomberg) -- The U.S. auto sector has suffered a bumpy ride so far this year, and the road isn't expected to get much smoother any time soon.
Trade tensions and drawn out tariff talks have weighed down investor sentiment for the sector, which relies on an international supply chain. On top of that, demand for cars is slowing in the U.S., forcing automakers to overhaul their strategies and pour money into research and development, putting a squeeze on margins.
"While we believe that sales and production are plateauing with modest downside pressure, and that mix in the U.S. will remain strong, this will be offset by deterioration in pricing and rising interest rates," Buckingham Research Group analyst Glenn Chin wrote in a note dated July 19. "The costs of many commodities, should they hold at current levels through 2018, are significantly higher than their 2017 averages, and could be an earnings headwind," Chin added.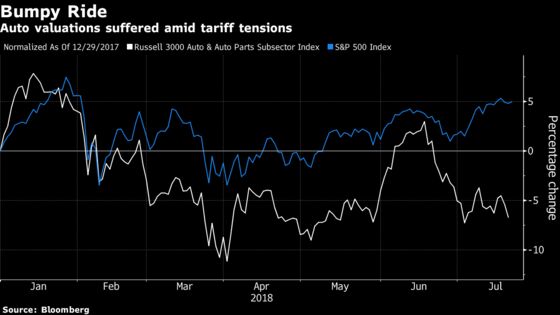 Here's what analysts and investors will be watching when General Motors and Ford report second-quarter results on Wednesday.
Expectations are muted for both GM and Ford's full-year outlook, with consensus for GM's earnings standing at $6.38 per share, compared to the company's guidance of a "mid $6" range. For Ford, analysts on average expect 2018 profit of $1.51 per share, compared to the carmaker's outlook of $1.45 to $1.70.
The impact of the fire at a Ford supplier's factory in May that halted production of the company's biggest moneymaker, the F-150 pickup, is expected to hurt results. RBC Capital markets analyst Joseph Spak said consensus estimates do not fully reflect the impact from the fire.
"Management estimated that the F-150, F-250/350 downtime would weigh on second-quarter earnings per share by about 12 cents, however, consensus earnings per share only fell by about 6 cents after the announcement," Spak wrote in a note dated July 13.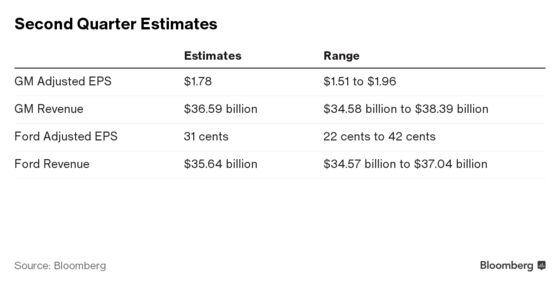 The nearly constant bickering over trade and tariffs has been an overhang for the entire sector for the past couple months, and any update or detail can help to relieve some investor angst.
"We don't expect commentary on potential economic impact or volume, but look for some color on tariff cost impact," RBC's Spak said.
The U.S. is deciding whether to impose tariffs as high as 25 percent on car imports as part of President Trump's bid to reduce the $566 billion U.S. trade deficit. The proposal has drawn opposition from Japan, Mexico, Canada and Germany, among others, as well as U.S. automakers.
The American Automotive Policy Council estimates that a 25 percent levy would amount to an $83 billion tax burden on the U.S. auto industry and consumers.
Costs of raw materials for the sector have risen steeply this year, and management commentary may affect valuations of auto suppliers.
"The price of oil, steel, and copper, etc., are all significantly higher now than their average over the past 12 months," Buckingham's Chin wrote, adding that U.S. tariffs on commodities will also likely push prices higher.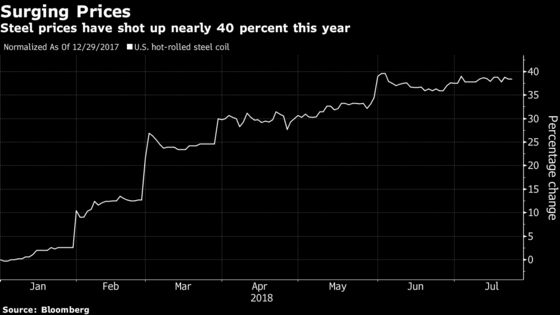 "While some suppliers have pass-through arrangements on certain commodities, there is often a lagged effect," Chin said.
Read: PREVIEW FIAT CHRYSLER: Strong 2Q Seen, Focus on New CEO Comments