Foreign Money Is Trickling Back Into South Africa's Bonds
(Bloomberg) -- After almost three months of unabated selling, foreign investors are making a cautious return to South Africa's bond market.
Non-residents were net buyers of the country's government debt for the second week running last week as emerging-market sentiment improved and inflation in South Africa fell short of analysts' estimates.
The inflows have been small: about 1.6 billion rand ($119 million) since July 9, compared with almost 60 billion rand of outflows in the second quarter, according to Johannesburg Stock Exchange data. But the move marks a turnaround from 11 straight weeks of outflows sparked by a stronger dollar and rising U.S. Treasury rates.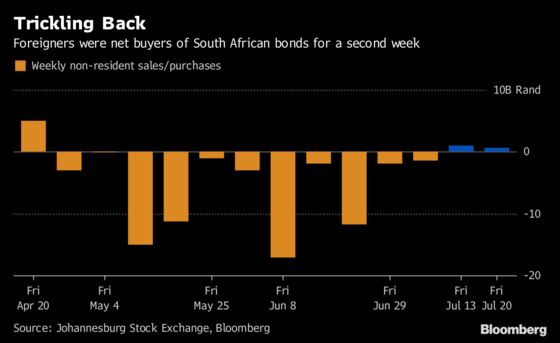 "Stabilization of sentiment has led to a reversal of flows back into bond markets" across most developing nations, said Richard Segal, a London-based senior analyst at Manulife Asset Management Ltd. "In South Africa, though, the lower-than-expected June inflation data was a positive and bullish surprise. Assuming the news flow remains relatively quiet then probably yes, inflows will continue."
While the threat of more tariffs between two of the largest economies in the world still lingers, South Africa's yields are high enough to compensate for the uncertainty in global markets. Among major emerging markets, only Brazil and Turkey, both rated sub-investment, offer better returns. South Africa's local-currency bonds are rated Baa3, the lowest investment level, at Moody's Investors Service.
The second-quarter sell-off saw foreign ownership of South African bonds dwindle to 40.2 percent in June, from as high as 42.8 percent in March, according to National Treasury data. Benchmark yields climbed about 85 basis points in that period as the debt lost 17 percent for dollar investors.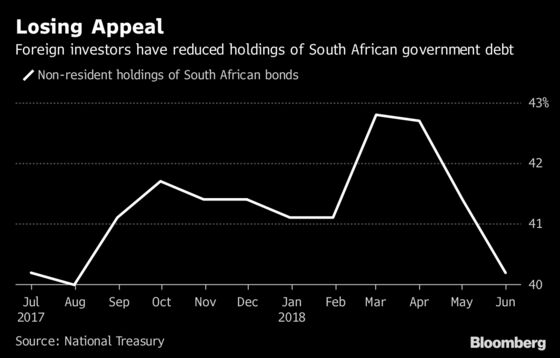 So far this quarter, the country's bonds have earned a 3 percent return, the best after Argentina, Brazil and Mexico among 19 emerging markets tracked by Bloomberg Barclays indexes. Those gains could accelerate in coming months, with Standard Bank Group Ltd. forecasting the yield on benchmark 2026 bonds at 8.3 percent by year-end, from about 8.77 percent Tuesday.