Euro Treading Water Awaits Rescue Mission From Draghi & Co.
(Bloomberg) -- The euro is treading water, and it may need the European Central Bank's hand in rescue.
The question is whether President Mario Draghi and his council will be able to throw a life line at the currency when they meet on Thursday. The shared currency is trading around where it was about a year ago against the dollar, caught in a crosscurrent between opposing forces.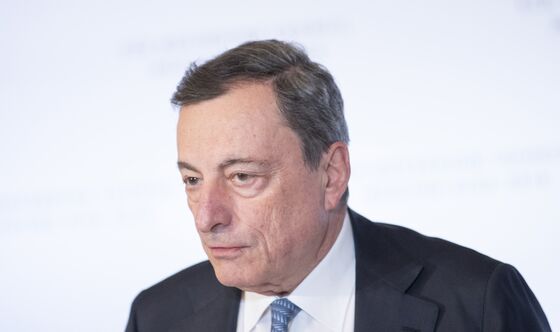 While those bullish on the exchange rate cite the much-anticipated taper of bond purchases by the European Central Bank and an eventual increase in euro-zone interest rates, bears allude to the lack of urgency in policy makers' messaging on raising borrowing costs.
"At levels where we are on the euro, I struggle to have a view either way, and policy doesn't help in that regard," Timothy Graf, head of EMEA macro strategy at State Street Bank & Trust Co., said in an interview. "You do have a decent growth profile, but you have a central bank that will be very deliberate and not offer you a lot to get excited about on the rate front, at least for six months or so."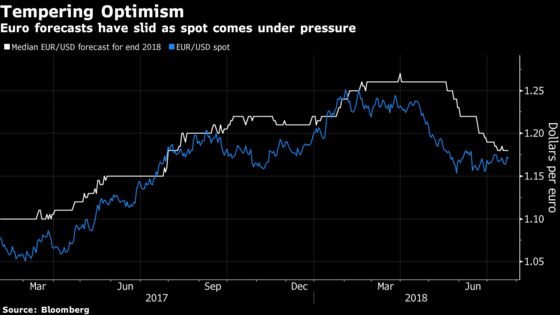 The euro is forecast to end this year at $1.1800, a far call from the $1.2600 analysts estimated as recently as two months ago. The currency whipsawed Tuesday, climbing on better-than-forecast German manufacturing data, but quickly retreating as numbers from the broader euro region proved less encouraging. It traded around $1.1680 in London.
State Street has shifted from an underweight position on the euro to neutral about six weeks ago on conviction that the currency had fallen too far against the dollar, but is now waiting for the "next signal" to gauge the currency's outlook.