Deutsche Bank Steps Up Graduate Hiring
(Bloomberg) -- Deutsche Bank increased the number of university graduates it hired this year as part of a group-wide cost cutting drive that's also led a string of veteran executives to leave the firm.
Germany's largest bank hired 774 graduates from the class of 2018, a 20 percent increase on last year and the second-highest figure in at least half a decade, according to a presentation slide provided by a spokeswoman. Half of those graduates were hired for corporate finance and technology.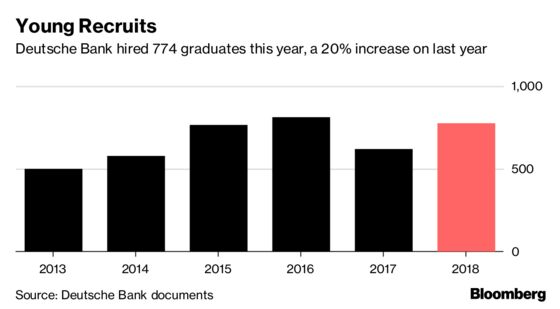 The turn toward graduates comes as Deutsche Bank Chief Executive Officer Christian Sewing slashes costs by firing staff as he tries to cut the workforce by at least 7 percent by the end of next year. Senior executives including Head of Corporate Finance Alasdair Warren, Global Head of M&A Thomas Piquemal, Head of Asian Equities James Boyle and the head of the bank's business with hedge funds, Barry Bausano, have since left.
The hiring drive was foreshadowed by Deutsche Bank's global head of equities, Peter Selman, who told Bloomberg in an interview in February that his unit will "focus on graduate recruiting" instead of "a lot of very high-priced, expensive lateral hires" to rebuild the franchise.
Business Insider reported the number of graduate hires earlier on Tuesday.
Deutsche Bank splurged on employee pay last year as it resumed paying bonuses after a hiatus in 2016, causing compensation relative to revenue to surge. Then-CEO John Cryan later had to abandon his cost target.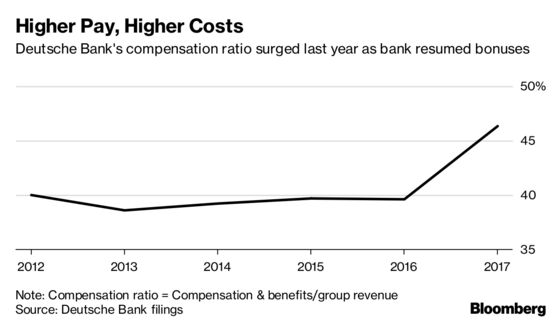 Germany's largest bank had been criticized in the past for failing to keep its ranks fresh with younger hires. In a report in April, JPMorgan Chase & Co. analyst Kian Abouhossein pointed out that its hiring of graduates and apprentices amounted to only 1.3 percent of its global workforce in 2017. He argued that the bank could have done more to give youth a chance, given that 8 percent of its workforce left the bank voluntarily in 2017.