Brexit Bulletin: Out of the Shadows
(Bloomberg) -- Today in Brexit: The U.K.'s two key Brexit officials will be questioned in Parliament.
Oliver Robbins, the U.K. negotiator who's barely seen in public and whom Brexiteers want fired, appears on Tuesday for a rare grilling by lawmakers.
Making for even better theater, he will be sitting next to the new Brexit Secretary Dominic Raab. The two men are engaged in something of a power struggle over who's really in charge of talks. Robbins reports to May and is blamed by hardline Brexit-backers for being the brains behind the Chequers agreement they loathe. They think Robbins has been sucked into the Brussels mindset and isn't fighting hard enough to get Britain a good deal. Robbins raided Raab's department for 50 negotiating staff, the Sun reported, with a quid pro quo that Raab would be copied in on all negotiation decisions. Lawmakers might also grill Robbins on the size of his bonus. (For more on Robbins, read Ian Wishart's profile of him and the EU's Sabine Weyand.)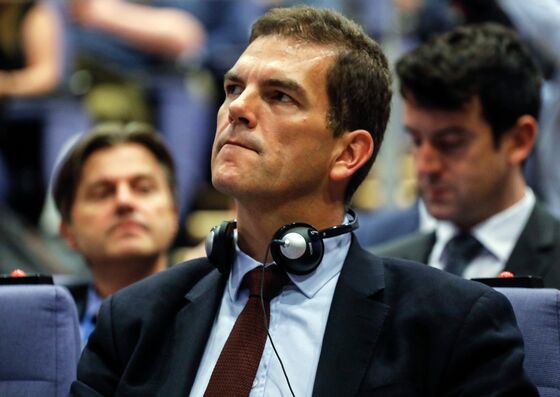 But the really important question is the plan for the Irish border – the main sticking point in talks and the one that could make the whole process unravel. The Brexit Department is also publishing another "white paper" policy document focused specifically on the withdrawal agreement. (Remember that Brexit is divided into two parts: first the divorce and, only after March next year, then the trade deal for the future relationship). Details are scarce, but it would be logical to expect the white paper to tackle the issue of the border.
The European Union's chief negotiator Michel Barnier opened the door last week to new proposals on how to keep the Irish border invisible after Brexit. The U.K. has so far rejected the EU's proposal as "unacceptable" because it would effectively cut off Northern Ireland from the rest of the U.K. Britain has come up with half an alternative proposal but acknowledges that it needs to fill in some details to complete the idea. Those details could be controversial, particularly for the Northern Irish party that props up May's government. But with just three months to go until a deal is meant to be signed, it would be good to know what the plan is.
Hardline Brexiters are changing the language to make a no-deal Brexit sound more palatable, Therese Raphael writes for Bloomberg Opinion.
Only the people can fix a Parliament broken by Brexit, constitutional expert Vernon Bogdanor writes in The Guardian.
May's Message to the North | May traveled to Britain's pro-Brexit industrial heartland to sell her plan to keep close ties to the EU, telling workers that carmakers based in the region depend on trade with the bloc that she's trying to protect.
New Argument | Foreign Secretary Jeremy Hunt took a new argument to Berlin to try to persuade Germany to go soft on the U.K. as it leaves. "My real concern is that it will change British public attitudes to Europe for a generation — and it will lead to a fissure to relations which would be highly damaging for that great partnership that we've had for so many years," he said. He also said Russian President Vladimir Putin would be the only one rejoicing if the EU and U.K. fail to clinch a deal.
Lose-Lose-Lose | Croatian Prime Minister Andrej Plenkovic had a damning analysis of Brexit. "It's a lose-lose-lose situation: first for the former British premier; then for the U.K., because the more details emerge, the clearer it is that the people have been manipulated by populists such as Nigel Farage; and finally for the European project," he said at a news conference with his Irish counterpart.
Like Father, Like Son | The Rees-Mogg family has a tradition of defying Tory prime ministers over Europe. In 1993, Jacob Rees-Mogg's father, William, went to court to try to stop Britain from ratifying the treaty that effectively created the EU. Declassified documents show Prime Minister John Major's glee when Rees-Mogg lost. "Good," he wrote. "A full gloat is merited." Rob Hutton has more spy stories from the archives here.
Coming Up | Before Robbins and Raab at 2 p.m., the Brexit Committee will also hear from lobbyists for the finance and media industries. Supreme Court judges will consider Scottish First Minister Nicola Sturgeon's attempt to preserve devolved powers after Brexit. Labour leader Jeremy Corbyn delivers a speech on manufacturing at 11 a.m.