Safeway Holders Scuffle With Albertsons Over 2015 Default Claim
(Bloomberg) -- Safeway Inc. bond investors say they were robbed of their rights by a 2015 Albertsons Cos. debt deal. Albertsons calls the claim a stale hold-up attempt of the supermarket chain as it seeks to finish taking over Rite Aid Corp.
That's the essence of the dispute between Albertsons and a group of noteholders who claim the company defaulted three years ago, when it overhauled its debt after purchasing Safeway. Both sides fired new broadsides over the past week, with noteholders who own Safeway's 2031 unsecured debt outlining their position in a July 19 letter asking for a default declaration, and Albertsons giving a detailed rejection today.
The arguments are heating up as the $3.1 billion purchase of Rite Aid heads for completion, with a stockholder vote on the merger scheduled by the drugstore chain for Aug. 9. The deal depends in part on Albertsons issuing even more debt to pay for Rite Aid. Albertsons said in a statement to Bloomberg it doesn't expect any delay, but the timing of the dispute does give pause to some analysts.
"They're trying to take advantage of the fact that Albertsons needs this acquisition," said Joseph Stauff, a special situations analyst at Susquehanna International Group who has said approval from Rite Aid shareholders isn't a sure thing. "This is just another overhang on the process; it lowers the probability of it going through."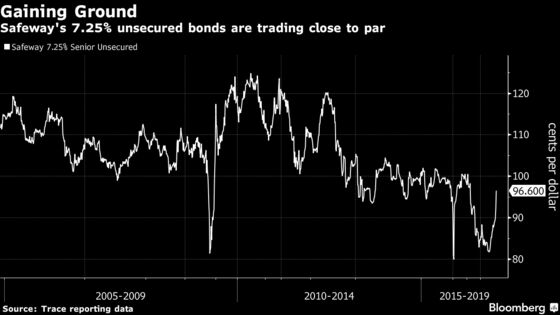 The dissent is rooted in Albertsons' 2015 takeover of Safeway, according to the July 19 letter from noteholders reviewed by Bloomberg News. As part of the deal, which was announced in 2014, Albertsons replaced its bank credit agreement with two larger secured facilities, Alexander Diaz-Matos, a Covenant Review analyst, said in an interview.
The Safeway holders, who control more than 45 percent of the unsecured notes, now claim that the revision violated a covenant by imposing new liens that exclusively benefit Albertsons and its own subsidiaries.
"Safeway's new owner harmed Safeway and its creditors, including holders of the debentures, by burdening Safeway with liens as part of the new owner's scheme to extract value from Safeway without any corresponding benefit to Safeway," according to the July 19 letter from attorney Lawrence Wee of Paul, Weiss, Rifkind, Wharton & Garrison. What's more, Albertsons "is on the verge of committing new breaches" as it layers on more debt with the Rite Aid takeover, according to Wee.
Albertsons rebuffed the argument in its July 23 response from attorney Stuart D. Freedman of Schulte Roth & Zabel. He called it a "misguided attempt to extract 'hold-up value' from Safeway" while the Rite Aid deal is pending, and he rejected the noteholders' notion that the Bank of New York as trustee should issue a default notice.
"Contrary to the minority holders' assertions (and as their silence over the past four years confirms), no default has occurred," he wrote. "It simply defies logic that they would not have declared an Event of Default or otherwise complained years ago."
The supermarket chain lists more than $11 billion of total debt in its annual report, including the $576.6 million of Safeway 7.25 percent unsecured bonds due 2031. Some of its notes trade at deeply depressed levels, with the yield on some issues topping 12 percent. The 2031 Safeway notes sold for less than 82 cents on the dollar in March, but have since rebounded to above 96 cents, according to Trace bond prices.
"The pending Rite Aid merger does make it good timing for bondholders to make these arguments, as they may have additional leverage," Diaz-Matos at Covenant Review said.
Paul Simenauer of Bloomberg Intelligence doesn't see the merger collapsing.
"It's just a nuisance thing," Simenauer said in an interview. "If the company had to take the holders out, they'll take them out," to mitigate the risk, he said. There have been other vague arguments raised by lenders in similar situations, "and I've seen companies cave before," Simenauer said. "But that's a lot of gymnastics to make money."