Pound Traders Tested by Brexit May Have to Wait for Summer Break
(Bloomberg) -- Pound traders just had a hectic week. They still can't afford to relax.
Sterling fell below $1.30 for the first time since September last week on weaker-than-forecast U.K. inflation and uncertainty surrounding the separation from the European Union. Though Parliament is heading into recess and there is a lack of top-tier economic data, the EU's reaction to Prime Minister Theresa May's Brexit plan and a speech by Bank of England Deputy Governor Ben Broadbent may be the biggest drivers of the currency this week.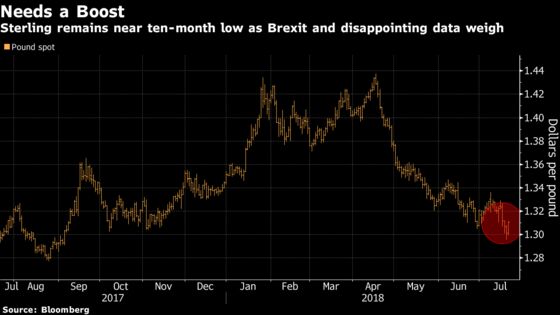 Traders will be especially focused on signs of whether Broadbent will join the three Monetary Policy Committee members who called for a tighter stance at the last meeting when he speaks on Monday. With just over a week to go until the next decision, the market currently sees a more than 80 percent chance that the nine-member MPC will raise rates then.
"Broadbent is one of the favorites to switch from hold to hike along with Carney, so we will be hanging on every word to sense a shift," said Neil Jones, Mizuho Bank's head of hedge fund sales.
The pound has been caught in a tussle between expectations of a rate hike on Aug. 2 and growing political tensions, while U.K. 10-year government bonds have largely traded in a narrow range as gilt investors also struggle to price the two factors. Still, sterling weakness has been the dominant theme, with the currency posting its second weekly loss versus the dollar last week.
Sterling gained 0.1 percent to $1.3152 as of 8:43 a.m. London time on Monday. It was little changed at 89.22 pence per euro. The yield on U.K. 10-year government bonds gained one basis point to 1.24 percent.
After a tumultuous few weeks for British Prime Minister Theresa May, during which her administration was rocked by a series of resignations over her Brexit strategy and speculation of a leadership challenge, she will be hoping her troubles settle down as Parliament goes into a six-week recess Tuesday.
While pound traders will also probably be relieved to get a break from U.K. political turmoil, Brexit could still impact the currency. After EU chief Brexit negotiator Michel Barnier gave May a glimmer of hope on Friday in his initial response to her divorce proposals, set out in a so-called government white paper, further reaction to the plan is likely this week.
The battered pound could take another hit should EU opposition become louder as it would likely increase fears of a collapse in Brexit talks. In contrast, "a conciliatory tone on the white paper can lift the pound off last week's lows," although follow-through is not a given, Societe Generale SA strategist Kenneth Broux said.