Packaging Sector Faces Trial by Fire as Costs Creep Higher
(Bloomberg) -- The packaging sector faces its biggest challenge this earnings season, proving the market wrong, after underperforming other materials sectors so far this year.
Cost inflation, recent strength in the U.S. dollar and weaker volume have weighed on the packaging stocks this year, compared to other sectors. While the companies have attempted to pass along higher costs to their customers by raising their selling prices, investors have so far remained in a wait-and-see mode.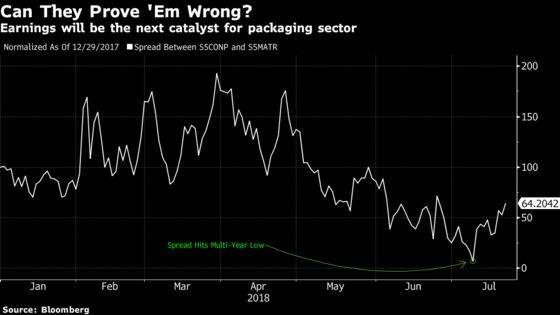 Earlier this month, the spread between the packaging and materials sectors in the S&P 500 reached the narrowest since late 2014, indicating a bottom might have been reached. Relative valuations aside, however, a solid outlook on the sector and steps to offset rising costs will be needed for the stocks to move higher.
The earnings season for packaging and containerboard companies starts with Graphic Packaging Holding on July 24, followed by Packaging Corp. on July 25, International Paper Co. on July 26 and WestRock Co. on August 1. Here are what the analysts are saying about the sector's earnings outlook.
Goldman Sachs, Brian Maguire
Packaging stocks' earninngs are likely to be pressured by a combination of the strong U.S. dollar and rise in input costs. However, given the recent selloff, the risks are more than adequately priced into the share prices. Maguire doesn't think second quarter earnings will provide a catalyst for a "normalization" of depressed valuations, but continues to think that there is significant value for long-term investors. His top pick remains WestRock Co. and he reiterates buys on Berry Global Group, Graphic Packaging, International Paper, Sealed Air Corp. and Weyerhaeuser Co.
Bloomberg Intelligence, Joshua Zaret
North American packaging will benefit in the second half of the year from a pickup in global economic activity and a less cautious consumer. But Zaret notes that challenges remain from rising costs, especially from energy, chemicals, freight and currency. The paperboard packaging market seems to be particularly well-positioned for growth as a result of e-commerce trends and growing environmental-based initiatives to reduce single-use plastic products.
The 2nd quarter is expected to be a tough one for the packaging companies due to rising macro complexity, currency headwinds, higher costs and weak volumes. But the sector is beaten down so much that it's hard to see much more downside. His top picks are Graphic Packaging, Crown Holdings, Berry Global Group, Greif and Avery Dennison Corp.
The big packaging companies will benefit from their ability to pass through to customers the recent $50 per ton price hike for containerboard. Lower costs for old corrugated container will also help margins at their recycled board mills. But they may still face higher costs from rising fuel and freight prices. His top picks are Ball Corp., Graphic Packaging and WestRock.