Egg Prices May Fall Further in the U.S.
(Bloomberg) -- Egg prices, which are already down from their peak earlier this year, may fall even further due to larger flocks of hens and excess supply, according to the largest U.S. supplier.
The chick hatch rate has grown roughly 10 percent this year, Cal-Maine Foods Inc. said Monday in its fourth-quarter earnings report, citing U.S. Department of Agriculture data. "Potential excess shell egg supply could create additional pricing pressure," Chief Executive Officer Dolph Baker said in the statement.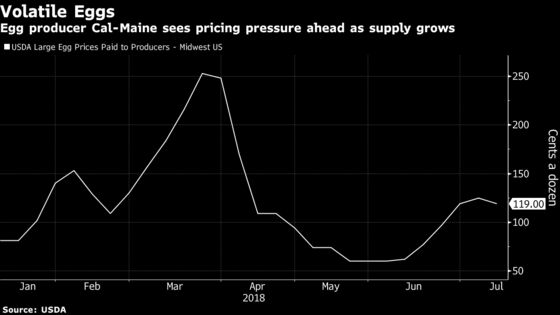 Cal-Maine posted earnings per share of $1.48 for the quarter ended June 2, compared with a net loss a year earlier. That fell short of the $1.50 average of estimates compiled by Bloomberg. The Jackson, Mississippi-based company was helped by egg prices, which were higher on average during the period. It's restarting dividend payments due to its improved financial performance.
Table-egg prices have been on a roller-coaster ride this year. They rose to $2.53 per dozen, according to data from the USDA for the price paid to producers, the highest in more than two years. But they have slumped since then by more than half, to $1.19.
U.S. production in May reached 7.93 billion table eggs, according to the USDA, up 2.9 percent from a year earlier.
Cal-Maine shares dropped 1.9 percent to $45.08 at 10:20 a.m. in New York.