Case for a Steeper U.S. Curve Gets a Boost From BOJ Speculation
(Bloomberg) -- The forces slowing the U.S. yield curve's drive toward inversion may have added a formidable global player to their ranks: the Bank of Japan.
The Treasuries curve's seemingly relentless flattening trend has reversed course since Friday, with the 2- to 10-year maturities posting their largest two-day steepening since February. Benchmark 10-year yields also backed up in France, Germany and the U.K.
At least some of the impetus comes from media reports that Japan's central bank may discuss changes to its ultra-loose monetary policy next week to mitigate the effects of its yield-curve control program. Japan's benchmark 10-year yield on Monday had its biggest jump in almost two years on bets the BOJ is going to change its stimulus. The worldwide ripple effects were a reminder that Japan's policy makers have sway well beyond their shores.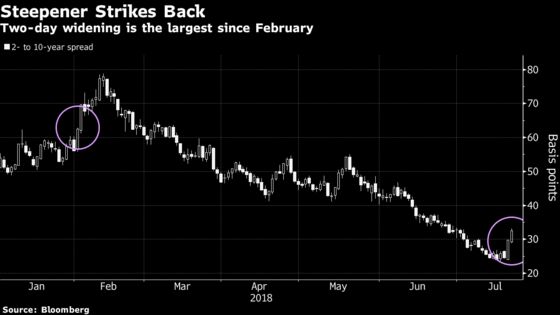 "That's a very correlated move," said Ben Emons, chief economist and head of credit portfolio management at Intellectus Partners LLC. The BOJ's tethering of Japan's long-dated yields has enhanced the appeal of foreign debt and the latest moves "may suggest people are anticipating a change," he said.
That's not to suggest that a policy shift in Japan can overwhelm the flattening move that's gripped the Treasuries market for the better part of the past 18 months. But it's a potential catalyst for investors looking to jump into steepeners as they gauge when the flattening momentum will peter out.
Of course, there are other forces putting up roadblocks to inversion. Haven buying of short-dated Treasuries amid escalating trade tensions has also sparked bouts of steepening, and markets may also still be absorbing President Donald Trump's criticisms last week of Federal Reserve rate hikes.
The flattening drive may well get a fresh spark from this week's Treasury supply, with the U.S. set to sell 2-, 5-, and 7-year notes. An expected report of robust U.S. second-quarter growth on Friday may also reinforce the backdrop for more Fed tightening.
The counterargument is that these pressures may be priced in already, while a policy surprise by one of the most powerful central banks is still a force to be reckoned with.