Britain's Productivity Puzzle Could Be Solved by Looking Abroad
(Bloomberg) -- British firms that get foreign direct investment are more productive, especially small and medium-sized businesses.
Experimental data from the Office for National Statistics published Monday showed that small firms that received money from overseas were 147.2 percent more productive on average than their counterparts. Medium firms saw a 197.4 percent boost, the report said.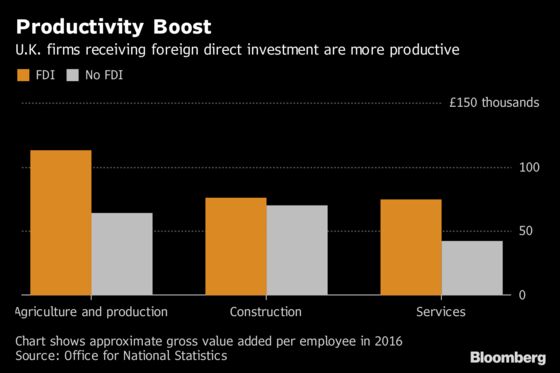 While just 1.1 percent of British business receive FDI, they employ approximately 4 million people, suggesting that they are generally large multinationals.
Low productivity has dogged the U.K. economy for years, with possible reasons including the the economy's reliance on services, which lag manufacturing in terms of efficiency growth, "zombie" companies that have been kept alive by loose monetary policy, and slowdown in the flow of people between firms since the financial crisis.
A Bank of England staff blog in 2017 suggested that foreign-owned firms may benefit from greater investment in research and development than their domestic peers, are better managed, collaborate with other organizations and promote the diffusion of ideas. BOE Chief Economist Andy Haldane has said the evidence underscores the "importance of openness to trade and foreign direct investment."
Alternatively, overseas firms may just opt to put money into businesses that are already more productive.
Investment in U.K. businesses from the European Union helped add 172 billion pounds ($226 billion) to the economy in 2016, more than from the rest of the world put together, the ONS data showed.