'The Equalizer 2' Unexpectedly Beats 'Mamma Mia!' in War of Sequels
(Bloomberg) -- So much for light summer fare at the box office.
"The Equalizer 2," marking Denzel Washington's return as a former CIA agent out for revenge, unexpectedly took the top spot in U.S. and Canadian theaters, knocking off predicted winner "Mamma Mia! Here We Go Again" in the debut weekend for both movies.
The surprise victory for the spy movie from Sony Pictures shows just how difficult it is for something like a musical comedy to win big at the box office. Animated films, superhero pictures and action-thrillers have dominated the box office this year, opening at No. 1 in almost every weekend, according to Box Office Mojo.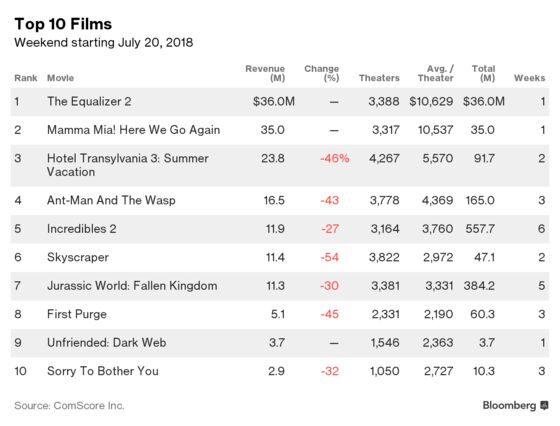 "The Equalizer 2" opened revenue of $36 million, while "Here We Go Again" had $35 million in sales, researcher ComScore Inc. said Monday. The weekend's other debut, "Unfriended: Dark Web," delivered $3.65 million for BH Tilt, taking ninth place.
In "Equalizer 2," Washington returns as former CIA agent Robert McCall, this time seeking to serve justice after the death of a friend. Box office receipts for "Equalizer 2" beat out the original, which opened in September 2014 to $34.1 million. It went on to earn $101.4 million in North America and $192.3 million in globally.
Critics were about split, with 49 percent recommending the film, which cost about $62 million to make. Box Office Pro was predicting $28.5 million in weekend sales and now sees a domestic run of up to $100 million. The films are based on a TV series of the same name from the 1980s.
"Star power has waned in recent years, but you put Denzel Washington in a great role like this and it proves that there are still movie stars," said Paul Dergarabedian, senior media analyst at ComScore. While early signs were that the "Mamma Mia" sequel would take the No. 1 spot, "the movie will have long-term playability.''
"Mamma Mia! Here We Go Again," Universal Pictures' follow-up to the successful film based on music from the group Abba, came in below the weekend sales of $38 million predicted by Box Office Pro. Even so, it beat the original's $27.7 million debut in July 2008.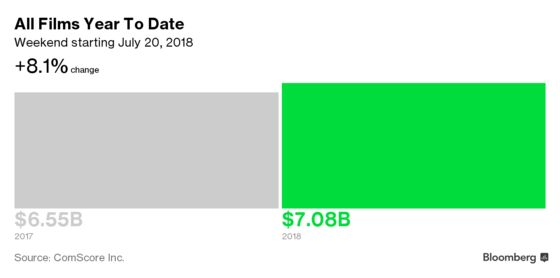 The original "Mamma Mia!" ended up earning almost $610 million worldwide and did more than three-fourths of its business overseas. Universal is in second place in domestic sales this year thanks to "Jurassic World: Fallen Kingdom."
"Here We Go Again" should give Comcast Corp.'s film division a nice boost, since it's one of the few high-profile alternatives to the usual summer fare and based on a highly successful hit. Critics generally like the film, with 79 percent recommending the picture, according to RottenTomatoes.com. The movie cost about $75 million to make, according to Box Office Mojo, and millions more to market.
The new movie is set five years after the first, with Amanda Seyfried returning as the now-married Sophie. In this go-round, Sophie learns more about her late mom, who is portrayed as a young woman by Lily James from "Downton Abbey" and in later years by Meryl Streep.
"Unfriended: Dark Web" took in $3.65 million, below predicted sales of $4.7 million by Box Office Mojo. The film is a sequel to a 2014 picture and a spin on the found-footage genre -- where characters discover film or video recordings that trigger horrific events.
In "Dark Web," 20-something Matias, played by Colin Woodell, finds and opens a laptop containing secret files. He and his friends soon learn the previous owner is watching them and plotting to get the computer back. Critics were split on the film, with 55 percent recommending it, according to RottenTomatoes.