Israeli Tanks Fire on Hamas Post in Gaza After Infiltration
(Bloomberg) -- Israeli tanks fired on a Hamas military post in the Gaza Strip on Saturday after Palestinians infiltrated across the border, the Israeli army spokesman said.
Al Aqsa Radio, a Gaza station, said the Palestinians broke into an Israeli army post, vandalized it, seized military equipment, then returned to Gaza. The army spokesman's office was checking the report, according to a text message.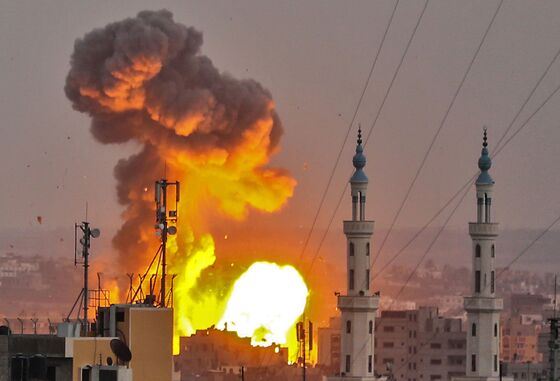 The incident came after a day of bloodshed that killed one Israeli soldier, three Hamas militants and a Palestinian demonstrator. Israeli Defense Minister Avigdor Liberman warned on Friday that Hamas was dragging Israel toward war, which he said would be a larger and more painful conflict than the previous round of major fighting in 2014.
Early Saturday, Hamas spokesman Fawzi Baroum said an agreement was reached to keep "the calm," which is the word the organization uses to describe a truce. Israel told southern residents that they could resume normal activities and allowed beaches to open, Ynet News said. The truce followed Egyptian and United Nations mediation.